UPDATED: APRIL 17 2010
WITH SO MANY INDICATORS OUT THERE I FIGURED I WOULD START OFF WITH WHAT I USE : IF YOUR LIKE ME YOU HAVE LOOKED ALL OVER THE INTERNET AND HAVE FOUND NOTHING :
THE BASICS ,
ADVANCE DECLINE LINE MEASURES THE DIFFERENCE OF ADVANCING ISSUES MINUS DECLINING ISSUES ON THE NYSE SHOWN BELOW IS A 10 DAY MOVING AVERAGE . THIS INDICATOR TRADES IN A RANGE BETWEEN PLUS 600 TO MINUS 1000 . ON OCTOBER 9TH 2008 THIS INDICATOR MADE A NEW MULTI YEAR LOW AND FROM THIS LOW MADE A NEW MULTI YEAR HIGH ON DEC 8TH 2008 . THIS IMPLIES A NEW CYCLE BEGAN ON OCT 9TH 2008 .
APRIL 17 2010
WE SHOULD SEE A MOVE DOWN TOWARDS MINUS 351 INTO MAY 7TH 11TH
THIS WOULD BE 2 EQUAL MOVES DOWN IN BOTH TIME AND PRICE FROM
THE MARCH 9TH 2010 HIGH
60 DAY ADVANCE DECLINE LINE
THE 60 DAY ADVANCE DECLINE LINE HISTORICALLY PEAKS FROM JUST ABOVE 150 TO 350 . FROM EACH TIME
THIS INDICATORS HAS BEEN UP TO THIS LEVEL FROM 1995 THE STOCK MARKET HAS MADE AN IMPORTANT TOP
THE HISTORIC LOWS ARE MINUS 400 . I HAVE LABELED THIS CHART TO REFLECT A CHANGE IN MARKET DIRECTION. THIS INDICATOR MADE A VERY IMPORTANT 5TH WAVE BOTTOM ON NOV 21 2008 . THE NEXT MAJOR TURN DATE ON THIS INDICATOR IS JUNE 2009 WHICH MOST LIKELY WILL BE A HIGH .
APRIL 17 2010
FROM THE JUNE 2009 HIGH THIS INDICATOR HAS MADE A SERIES OF LOWER HIGHS
THE LAST OF THIS SERIES WAS A PEAK ON APRIL 14 2010 .
BOTTOM LINE A RETRACEMENT BACK BELOW THE DEC 10 2009 LEVEL SHOULD BE EXPECTED
NYSE UP VOLUME MINUS DOWN VOLUME
10 WEEK MOVING AVERAGE
APRIL 17 2010
THIS INDICATOR HAS ALSO HAD A SERIES OF LOWER HIGHS FROM A JUNE 2009
PEAK . THIS LAST PEAK TURNED DOWN WHICH IS AT THE LEAST A SHORT TERM
BEARISH SIGN .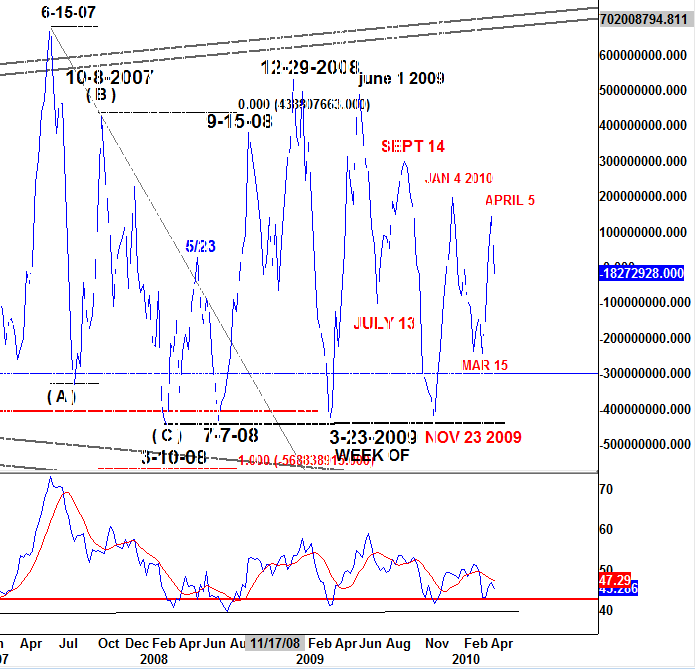 11 WEEK TRIN
APRIL 17 2010
THIS INDICATOR IS VERY SLOW AND HAS TO BE USED AS A GENERAL REFERENCE
THIS WORKS OPPOSITE TO THE MARKET . WHEN IT IS LOW THE MARKET IS CONSIDERED
OVERBOUGHT WHEN IT IS HIGH IT IS CONSIDERED OVERSOLD . THE RECENT CYCLE LOW
( OVERBOUGHT READING ) WAS DUE FOR THE MONTH OF MARCH 2010 . THIS INDICATOR
TURNED UP FROM ITS WEEKLY APRIL 5TH LOW .
I HAVE TO CONSIDER THIS A BEARISH SIGN
THIS SECOND INDICATOR I LIKE FOR SHORT TERM . IT IS A SIMPLE 5 DAY SUM OF THE DAILY CLOSING TRIN . A CLOSE BELOW 4.00 IS TYPICALLY SEEN NEAR MARKET TOPS AND A CLOSING HIGH NEAR 6.00 IS TYPICALLY SEEN NEAR MARKET BOTTOMS IN UP TRENDS HIGHER READINGS ARE SEEN IN DOWNTRENDS 7.00 TO 8.00 ARE NOT UNUSUAL.
CURRENTLY THIS MODEL IS OVERSOLD ( VERY SHORT TERM )
THIS NEXT INDICATOR IS GOOD FOR FORECASTING LONG TERM OVER BOUGHT AND OVERSOLD LEVELS IN THE STOCK MARKET . A CLOSE ABOVE 1.00 AFTER A READING BELOW 1.00 GIVES A SELL SIGNAL . A BUY SIGNAL IS GIVEN ON A CLOSE BELOW 1.40 AFTER CLOSING ABOVE 1.40. THIS MODEL IS CURRENTLY .
ON A SELL SIGNAL
APRIL 17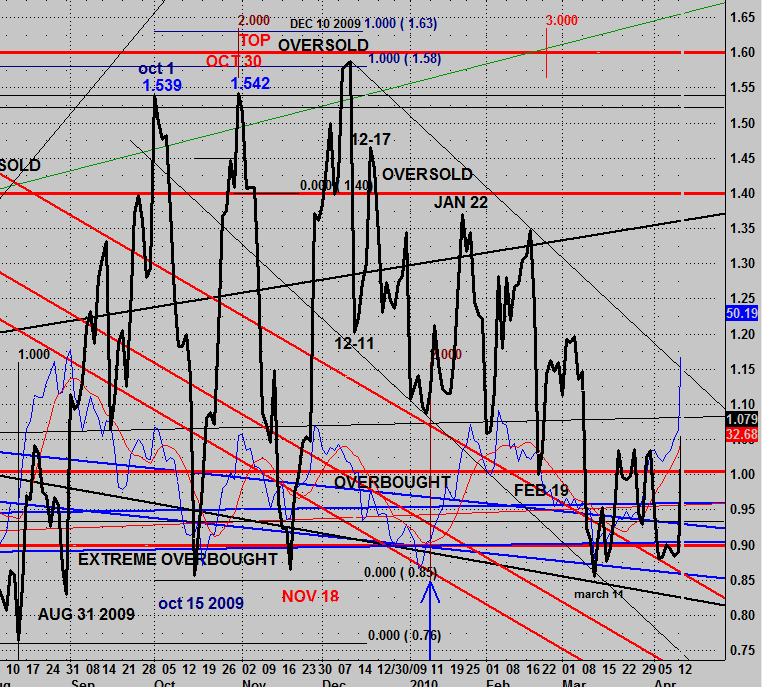 55 DAY TRIN
APRIL 17
THIS INDICATOR IS OVERBOUGHT YET NOT TO THE EXTREME OF JUNE 2007 .ALSO THERE IS
SOME KIND OF DATA GLITCH AND THE CHART BELOW APPEARS TO BE ACCURATE TO
APRIL 9TH . ILL NEED TO CONTACT DATA PROVIDER TO SEE IF SOMETHING HAS CHANGED
IN HOW THEY PROVIDE DATA ON THIS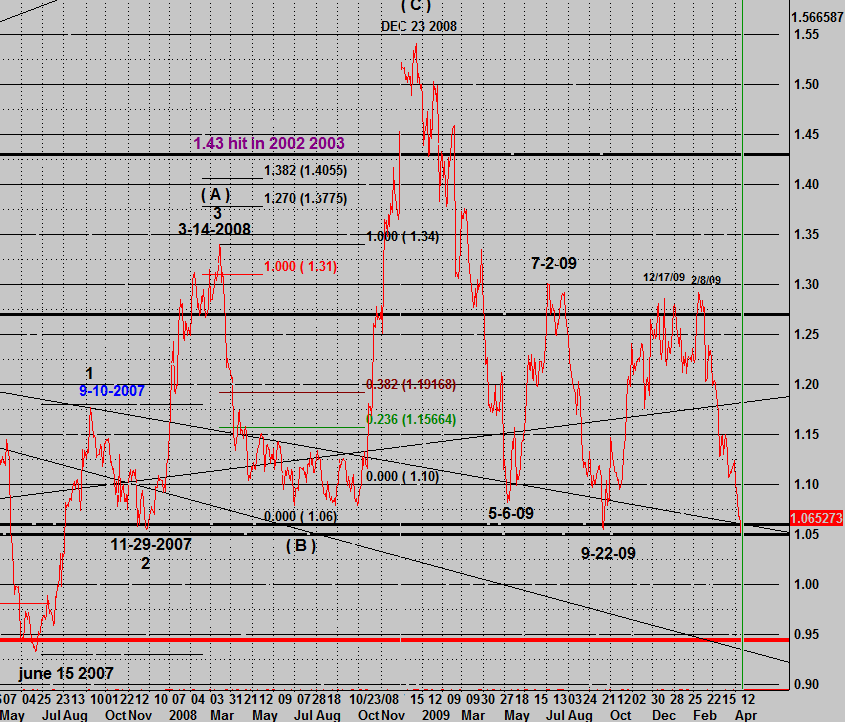 MY SENTIMENT INDICATOR VERSUS THE SPX ( SP 500 ) AVE ( REF MONTHLY SENTIMENT )
THIS IS EXTREMELY OVERSOLD AND TURNING UP ( MARCH 29 2009 )
UPDATED APRIL 17 2010
SENTIMENT IS NOW UP NEAR THE EXTREMES SEEN IN 2000 .THIS IS CONSIDERED
SOMEWHAT MEDIUM TERM BEARISH YET LONGER TERM IS A POSITIVE SIGN
GIVEN THE STOCHASTIC ARE TURNING UPWARDS
.
THERE IS A RISK IN TRADING PLEASE DO YOUR OWN RESEARCH AND USE THESE INDICATORS AS A GUIDELINE WITH OWN YOUR OWN TRADING SYSTEM . WHILE THESE INDICATORS HAVE HAD A GOOD TRACK RECORD FOR ME . NOTHING IS PERFECT AND PAST PERFORMANCE IS NO GUARANTEE OF FUTURE RESULTS
LASTLY WHEN NOTHING SEEMS TO BE WORKING AND YOUR IN NEED OF A BREAK FROM TRADING . GO HERE AND RELAX HAVE SOME FUN AND LET THE MARKET GO FOR A WHILE. THIS IS AN EASY PROGRAM TO FOLLOW
Copyright © 2004 CompanyLongName Last modified: April 17, 2010