FOR MORE INFORMATION ON THIS MODEL
CHECK THIS LINK
Try our software FREE for 30 days and find out why CLICK HERE ---------------------------
SEPT 7
LOOK FOR A BOUNCE ON MONDAY SEPT 8TH FOLLOWED BY A DECLINE INTO SEPT 15TH , 17 TH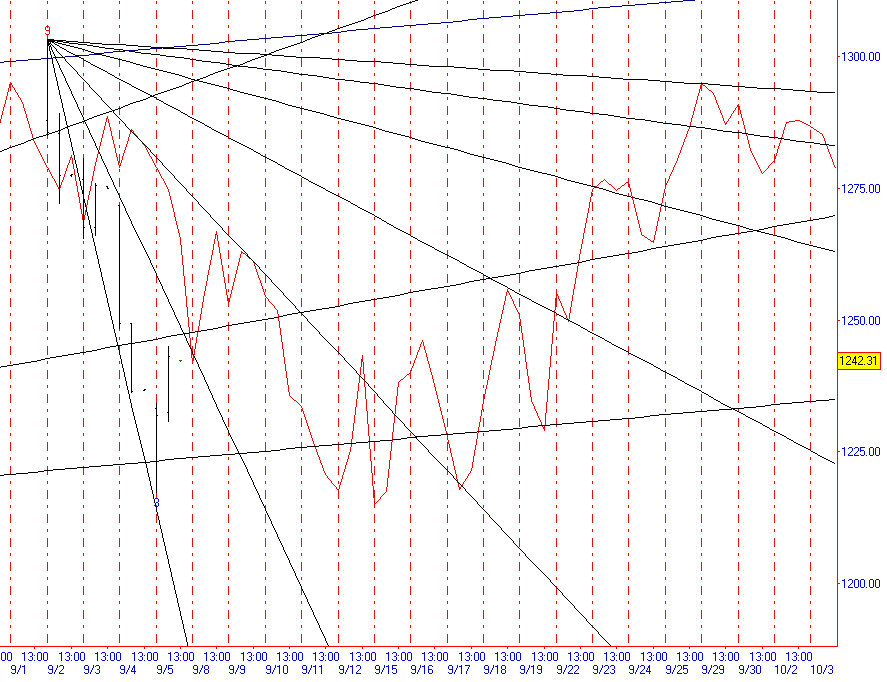 JUNE 4 2008
THIS CYCLE IS NOW BOTTOMING , LOOK FOR A RISE IN THE STOCK MARKET
INTO JUNE 18TH 20TH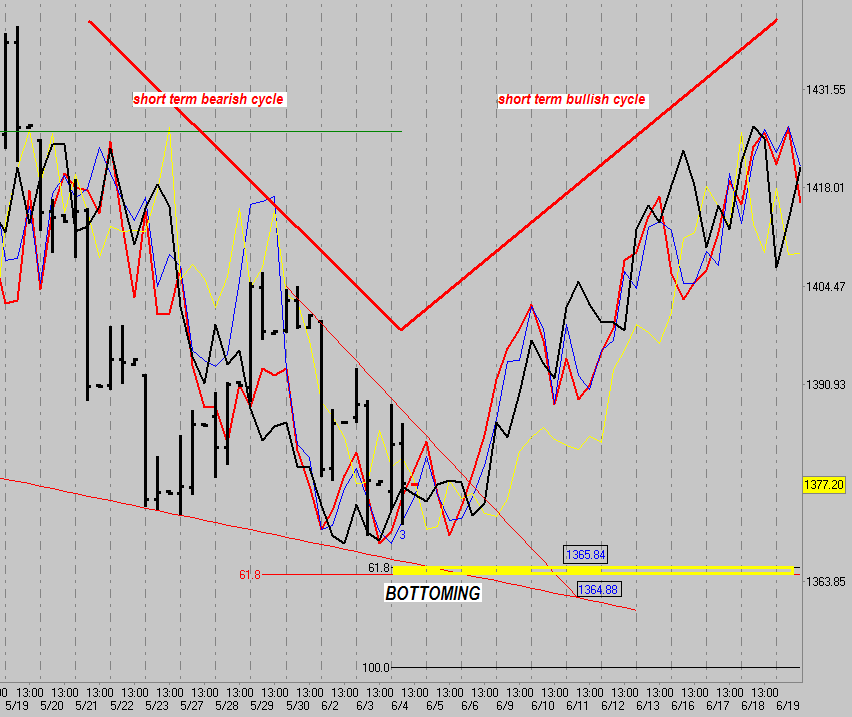 APRIL 5TH
THERE IS A FEW MIXED SIGNALS GOING INTO THIS NEXT CYCLE PEAK WHICH IS DUE
APRIL 17TH - 21ST . THE FIRST ONE IMPLIING A SHORT TERM TOP AS EARLY AS
APRIL 15 16TH . ALSO THERE IS A VERY SHORT TERM PEAK RIGHT NOW INTO APRIL 10TH 11TH
THIS LEAVES THE OVERALL TRADING ACTIVITY A BIT CHOPPY AND SLUGGISH LOOKING .
THE DECLINE FROM MID APRIL INTO EARLY MAY MIGHT BE A BIT STEEP , THE RALLY OUT OF IT
THOUGH IMPLIES SOMETHING MUCH STRONGER THEN WHAT WE HAVE BEEN SEEING FOR
THE YEAR SO FAR . ( THIS WILL BE TRICKY TO GET ALL CORRECT )
SHORT TERM SUPPORT SITS AT 1326 TO 1313 , SHORT TERM RESISTANCE SITS AT 1395-1400
LOWER SUPPORT AT 1277 SHOULD BE BOUGHT AND HELD ( IF SEEN )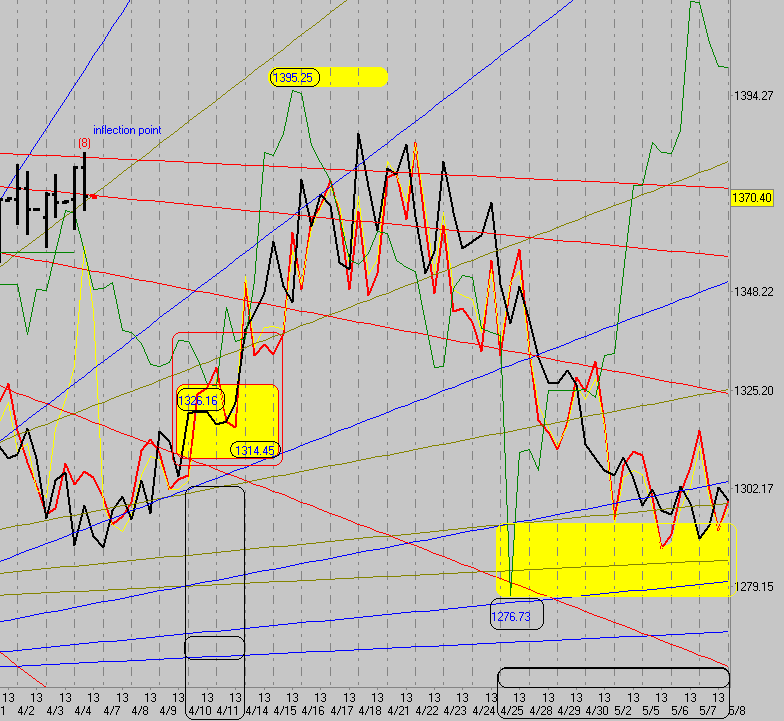 MARCH 8
WE ARE NOW INTO A SHORT TERM CYCLE LOW
LOOK FOR HIGHER PRICES INTO MARCH 21 24TH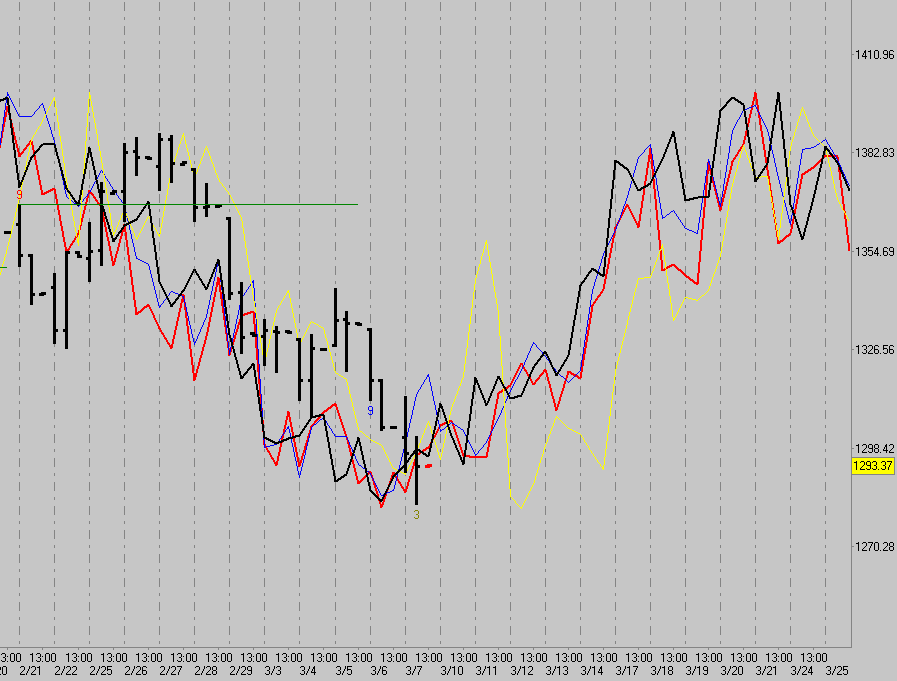 FEB 29
LOOK FOR A CYCLE LOW MID DAY THURSDAY INTO THE OPEN ON FRIDAY
THE NEXT CYCLE PEAK COMES IN MARCH 21-24TH
GIVEN THE POTENTIAL FOR THE MKT TO EXPERIENCE A MINI CRASH NEXT WEEK PLACE ORDERS
BELOW THE BID ON ANY OPTION ORDERS ( LOOK TO TRADE THE EXTREMES FOR ENTRIES )
ALSO IF YOUR LOOKING TO EXIT OUT OF ANY BEARISH POSITIONS PLACE YOUR ORDERS
A BIT OUT THERE FOR STARTERS AND LET THE MKT COME YOUR WAY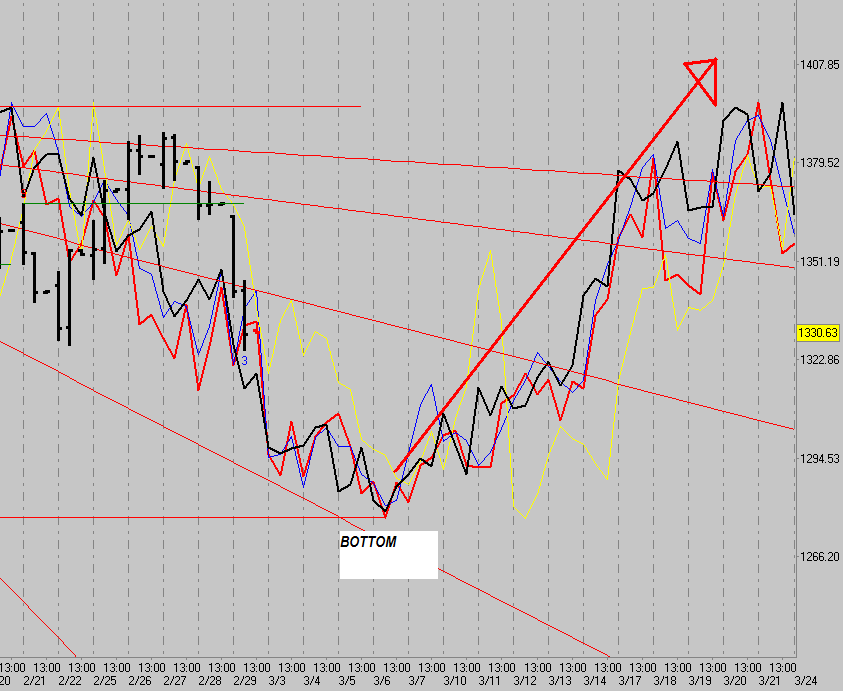 FEB 17
THE STOCK MARKET IS CLOSED MONDAY , THIS MODEL IS CALLING FOR A TOP
TUESDAY FEB 19TH TO FEB 22 .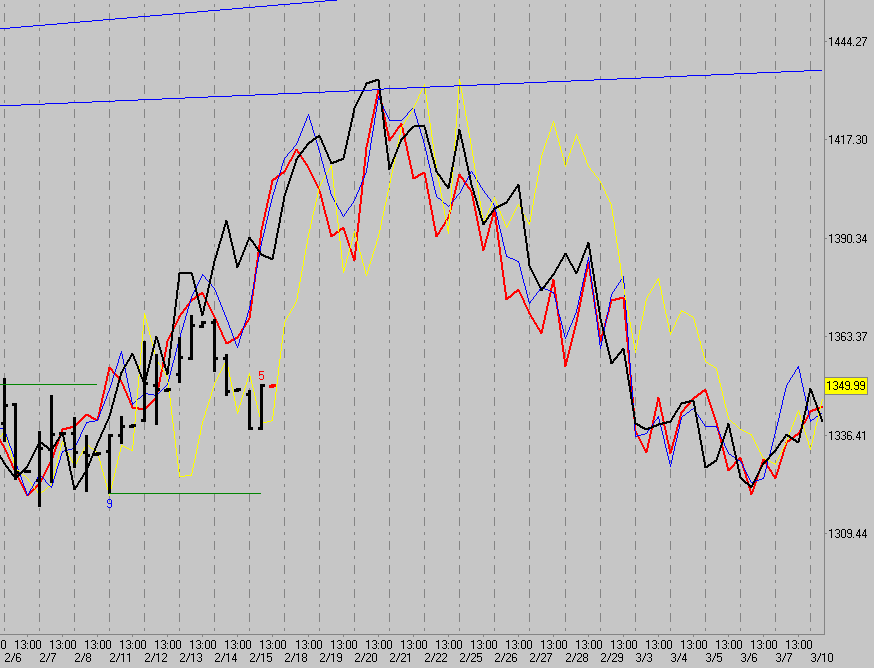 FEB 9TH
GET READY FOR A RALLY INTO FEB 19-22 ND
UPSIDE PROJECTION IS TO 1443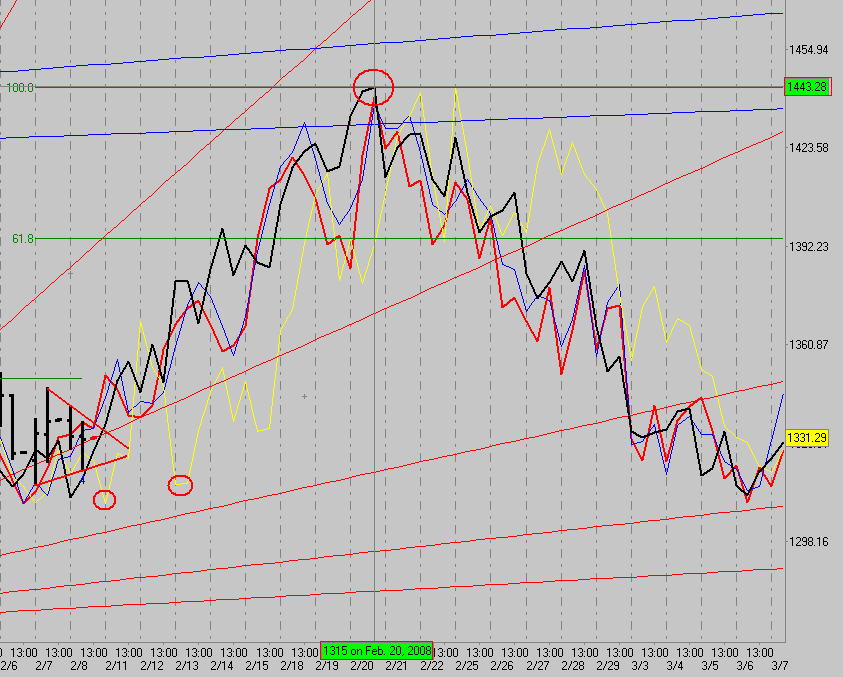 JAN 5TH
THIS INDEX IS ABOUT TO BLOW THROUGH ITS LAST MEANINGFUL SUPPORT AREA
TIMING SAYS LOOK FOR A RALLY .
MONDAY JAN 7TH IS IMPORTANT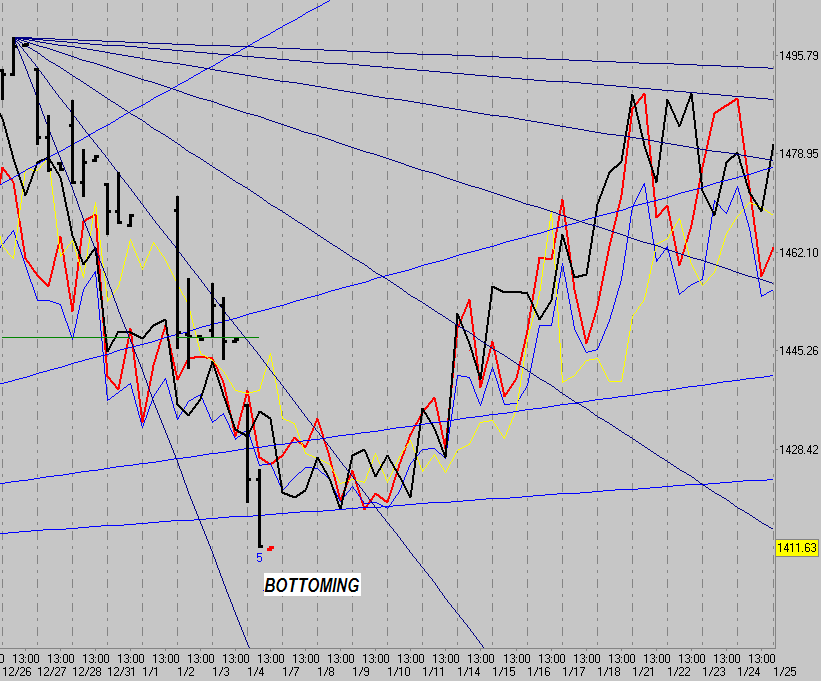 DEC 30 2007
THE CYCLE PEAK OF DEC 24 SHOULD HOLD FOR NOW
THE NEXT CYCLE LOW IS DUE FROM JAN 7TH TO JAN 10 2008
KEY SUPPORT SITS AT 1460.12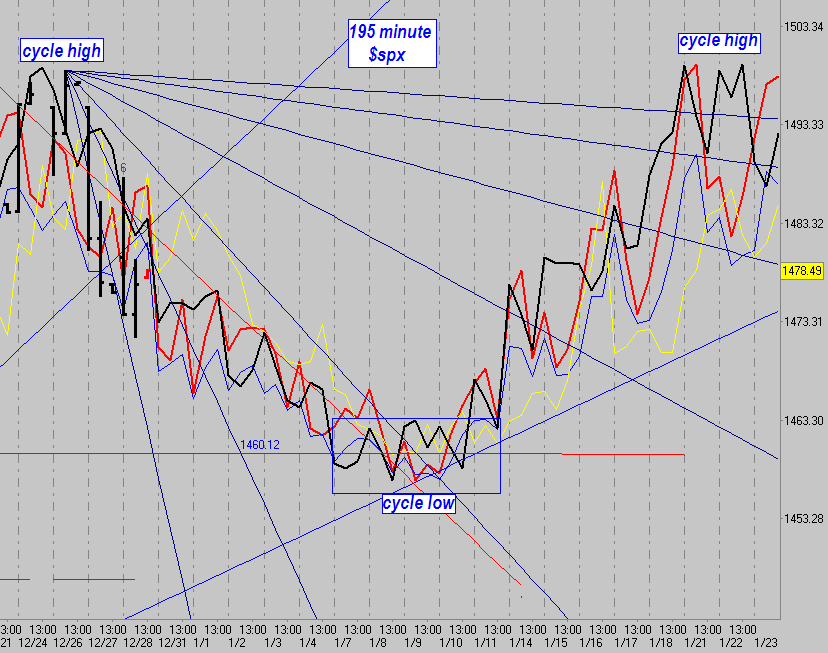 DEC 30
BRADLEY MODEL VERSUS ALCOA ( MONTHLY CHART ) FROM 2002 TO 2009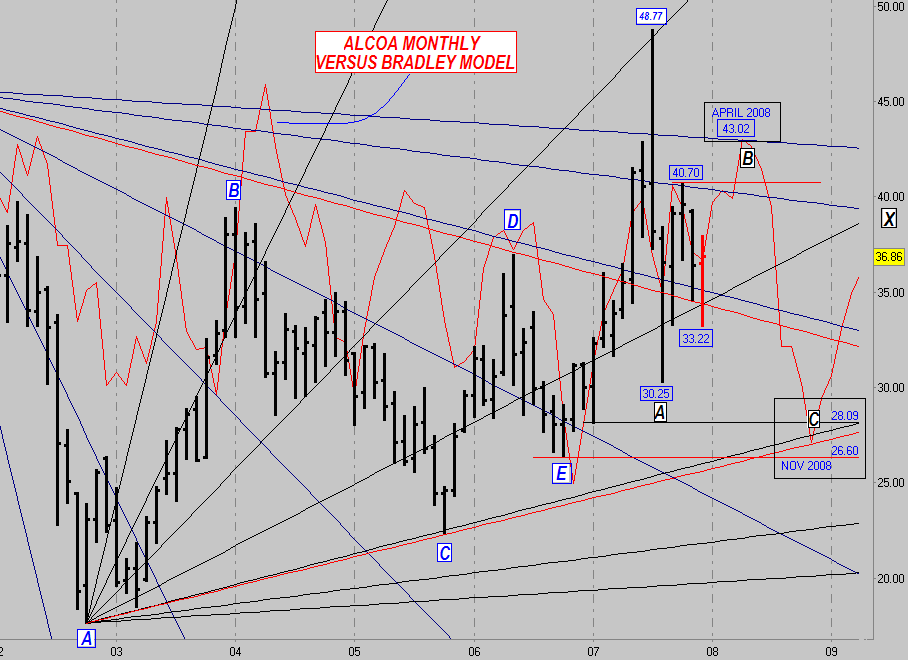 ALCOA MONTHLY BAR CHART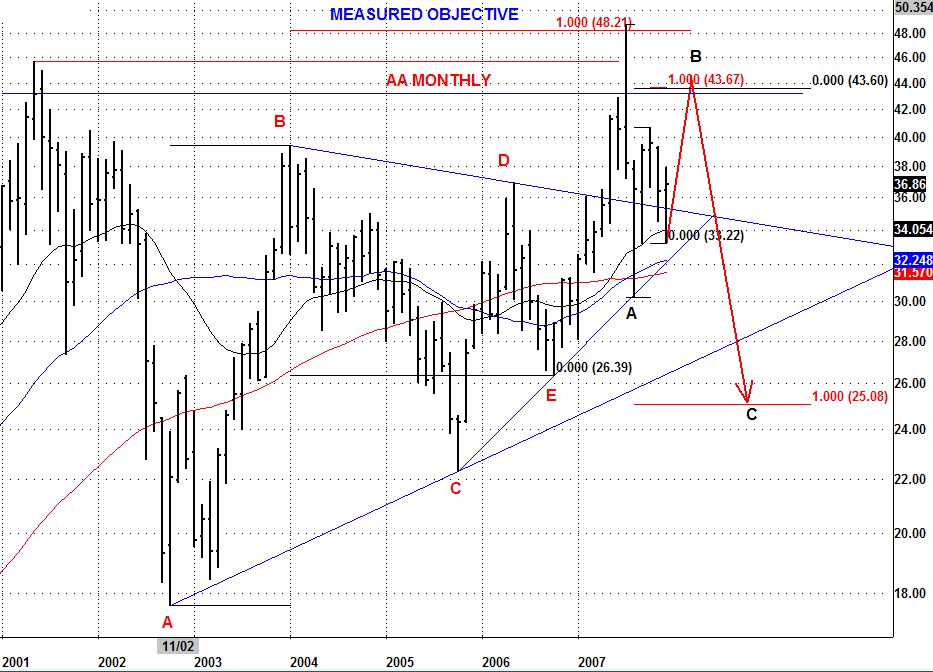 ALCOA MONTHLY CLOSE ONLY CHART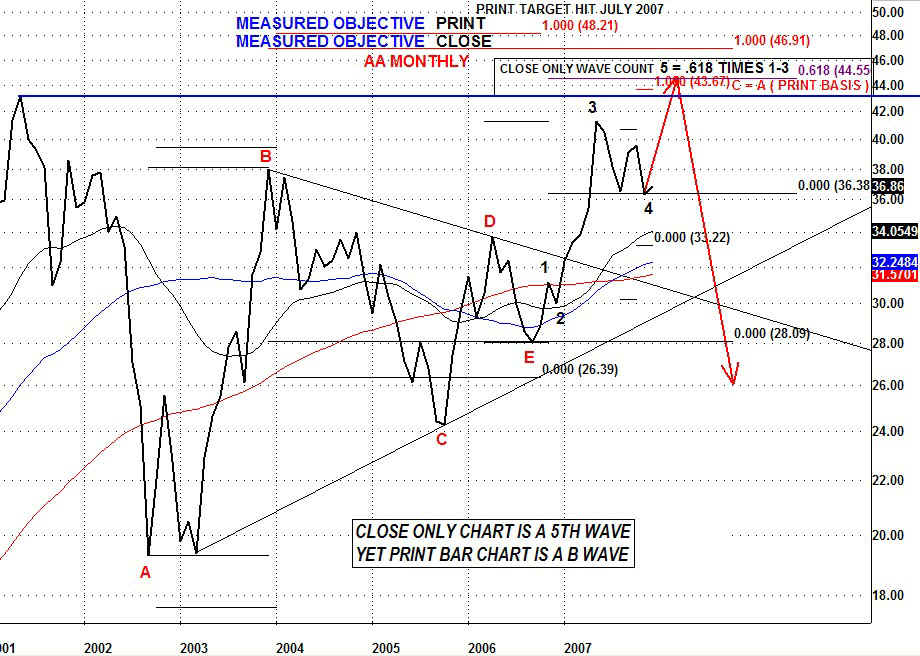 JUNE 12 , 2007
THE BEARISH CYCLE FROM JUNE 4 TH IS COMING TO AN END
LOOK FOR HIGHER PRICES INTO THE END OF THE MONTH .
JUNE 2
THERE IS A CYCLE TOP DUE LATE MONDAY THE NEXT CYCLE LOW IS DUE JUNE 15TH
APRIL 29
ANOTHER CYCLE TOP IS DUE IN THE COMING DAYS .
THIS MODEL HAS HAD A LOT OF SUCCESS OVER THE YEARS YET THIS YEAR IT HAS HAD
SEVERAL FAILURES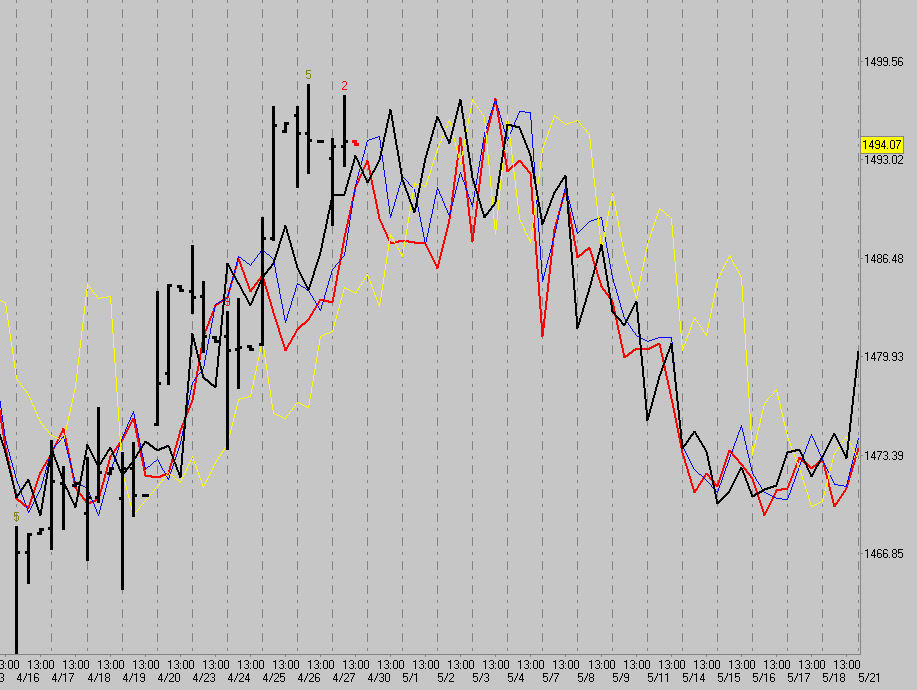 FEB 2
THE NEXT CYCLE LOW IS DUE FEB 16-20TH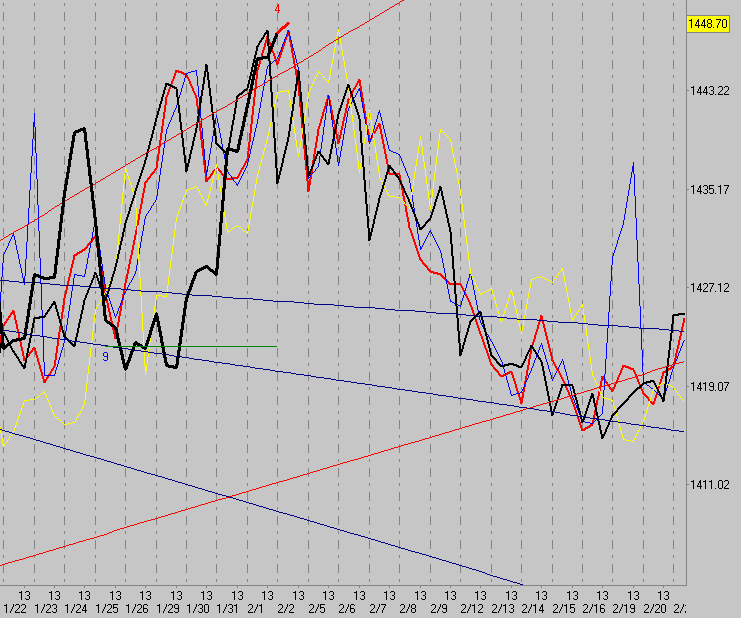 JAN 18
KEEPING AN OPEN MIND A RALLY NOW WOULD FINALLY SET UP THE 2007 CYCLES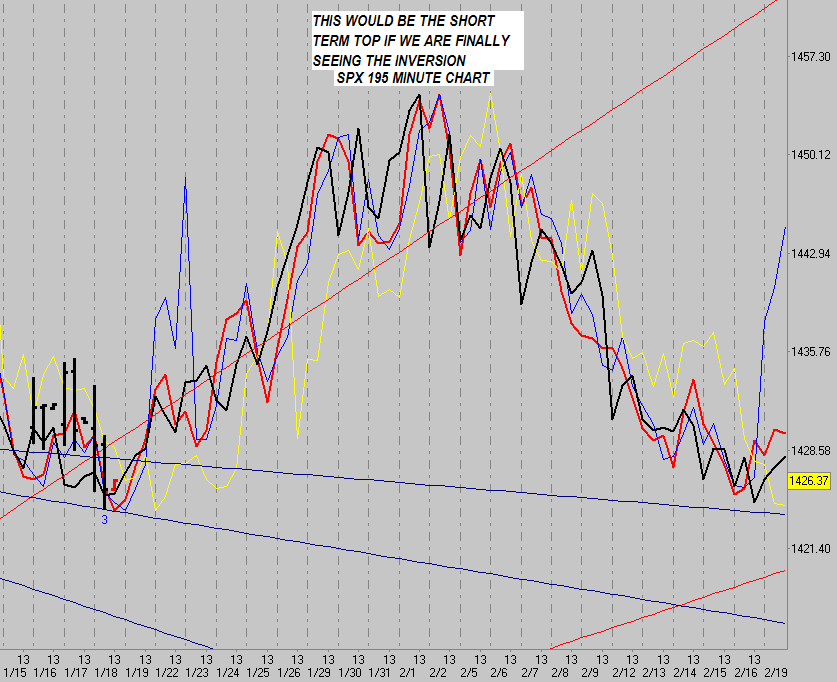 NOV 30
NO INVERSION AS OF YET
THIS IS HOW IT WILL LOOK WHEN IT COMES . LOOK FOR A HIGH NEAR TUESDAY DEC 5TH
AND A LOW DEC 19TH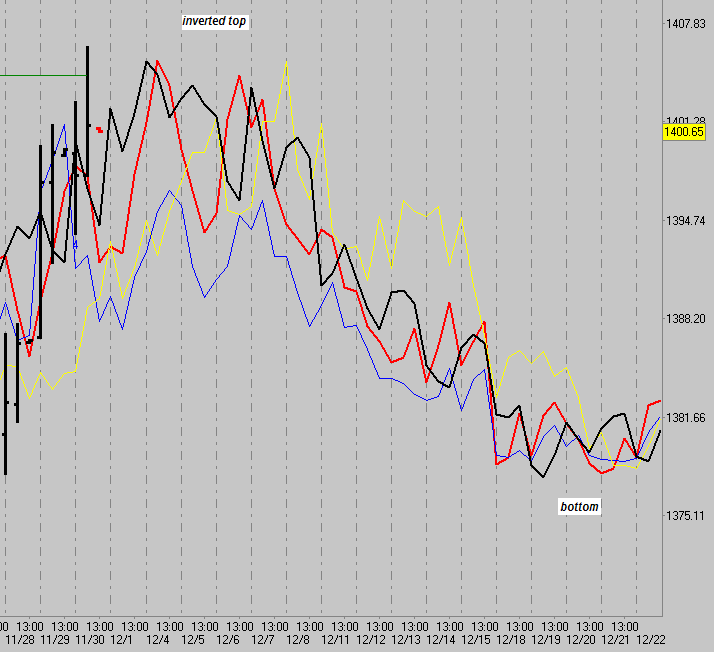 NOV 10 2006
I THINK WE ARE SEEING AN INVERSION .
SHOWN BELOW IS THE INVERTED TIMING MODEL .
LOOK FOR A BOTTOM IN THE STOCK MKT IN WAVE C NOV 17TH -22ND
SUPPORT SITS AT 1364 . WITH LOWER SUPPORT AT 1354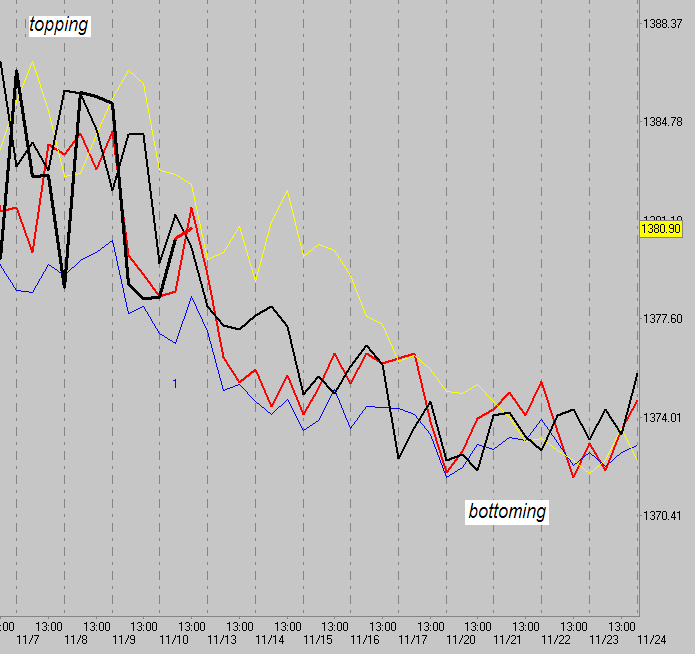 OCT 29TH
LOOK FOR A MOVE TO THE DOWNSIDE INTO NOV 3RD 8TH
SUPPORT SITS A 1350 ( NOTE GAP )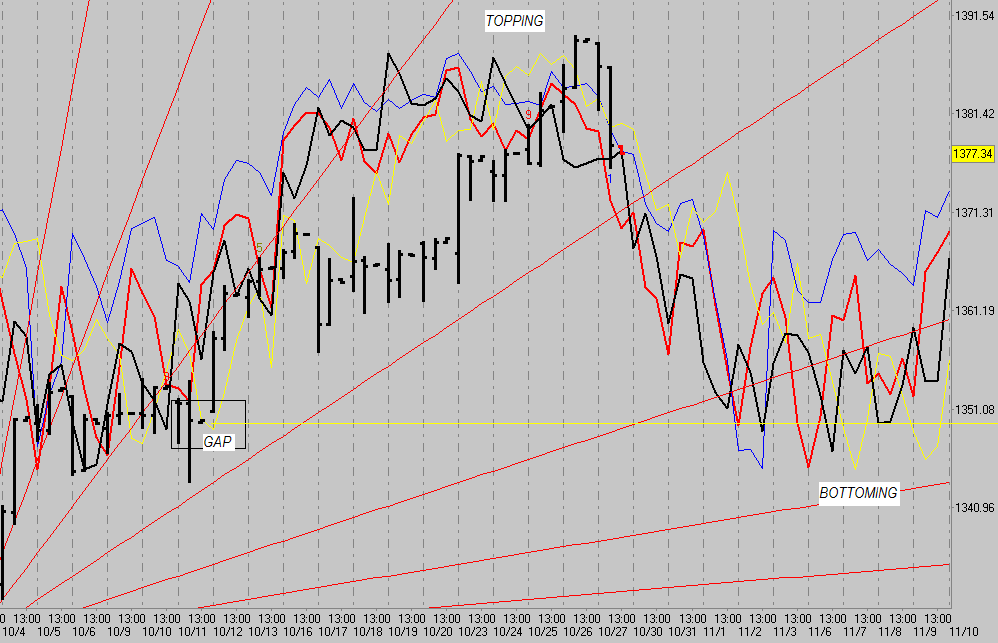 OCT 12
IM SHOWING 2 TIMING MODELS TODAY
FIRST LETS GO TO THE SHORT TERM CYCLE , THIS CYCLE POINTS HIGHER INTO OCT 20TH - OCT 24TH
THEN BACK DOWN INTO NOVEMBER 3RD NOV 8TH .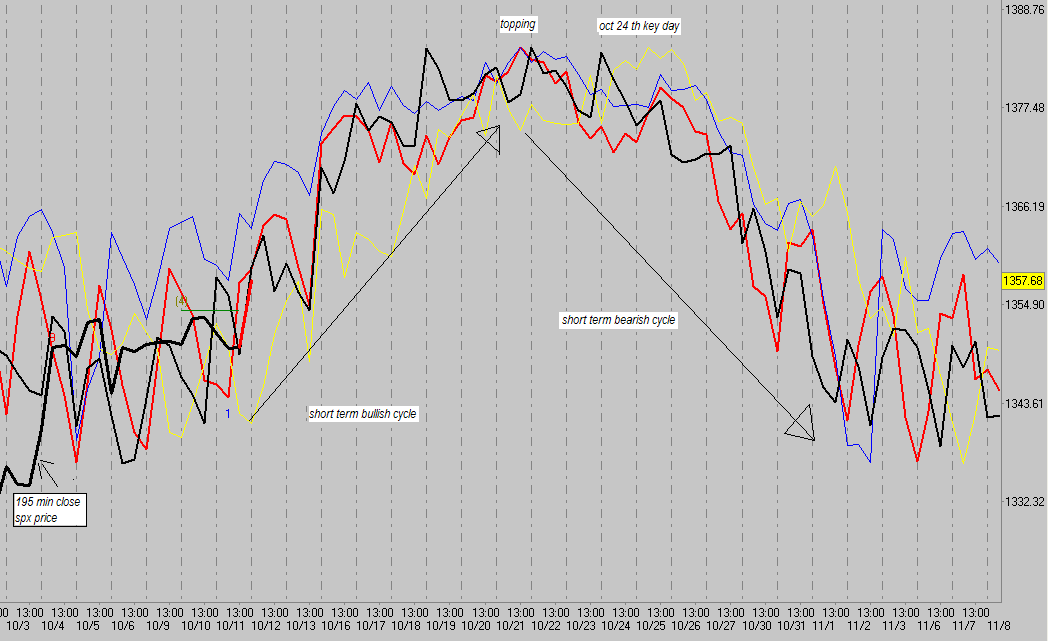 THIS IS A LONGER TERM CHART SO WE NEED TO KEEP AN OPEN VIEW AS THIS CAN BE UP TO SEVERAL
DAYS OFF , YET OVERALL THIS IS THE TREND I SEE COMING INTO NEXT YEAR THIS CHART IS OF THE
DAILY DOW THIS CHART SAYS HIGHER INTO OCT 19TH THEN DOWN INTO NOV 13TH 14TH
THEN A RALLY INTO EARLY JANUARY . THE WAVE COUNT AT THIS JUNCTURE IS WAVE III
WHAT IS NEEDED IS WAVE IV V ( 3 ) WAVE 4 ( 5 ) TOP . THIS TOP SHOULD BE IN BY JANUARY TO
FEBRUARY 11 TH 2007 ( SEE CHART BELOW )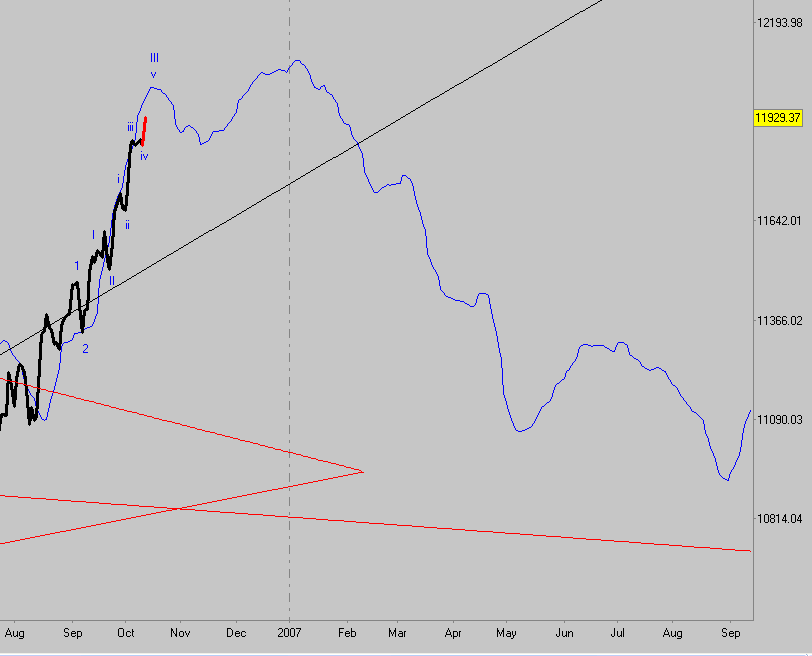 THIS CHART CALLS FOR A MOVE UP FROM JUNE 2006 TO FEB 11 TH 2007 THEN A MOVE DOWN INTO JULY 2007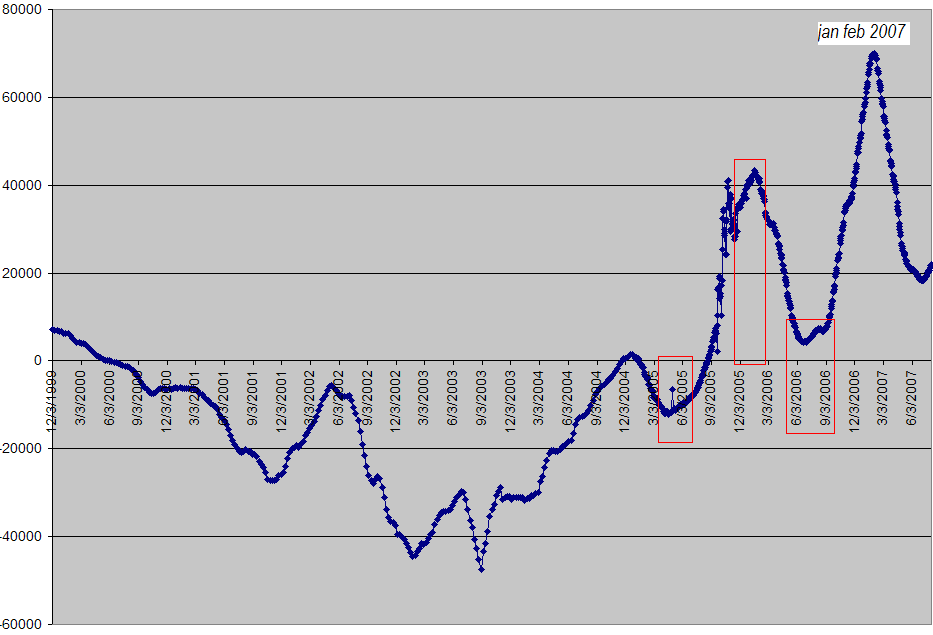 SEPT 27
LOOK FOR LOWER MKT INTO OCT 9TH
THIS INDEX APPEARS TO BE FURTHER SUBDIVIDING IN AN EXPANDING TRIANGLE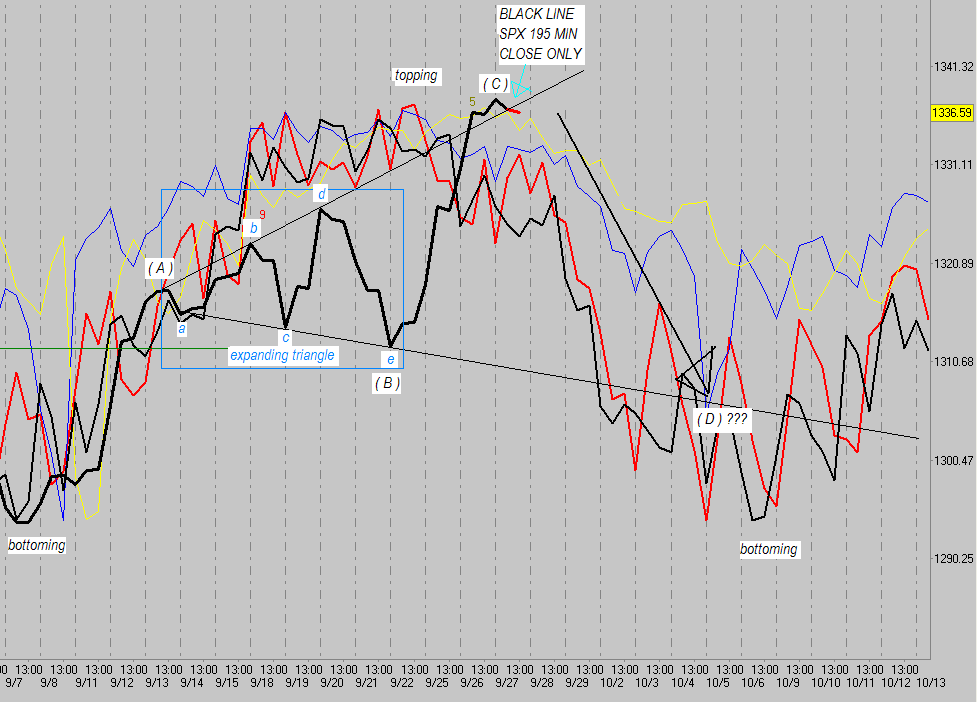 SEPT 24TH
LOOK FOR A LOW SEPT 6TH - 9TH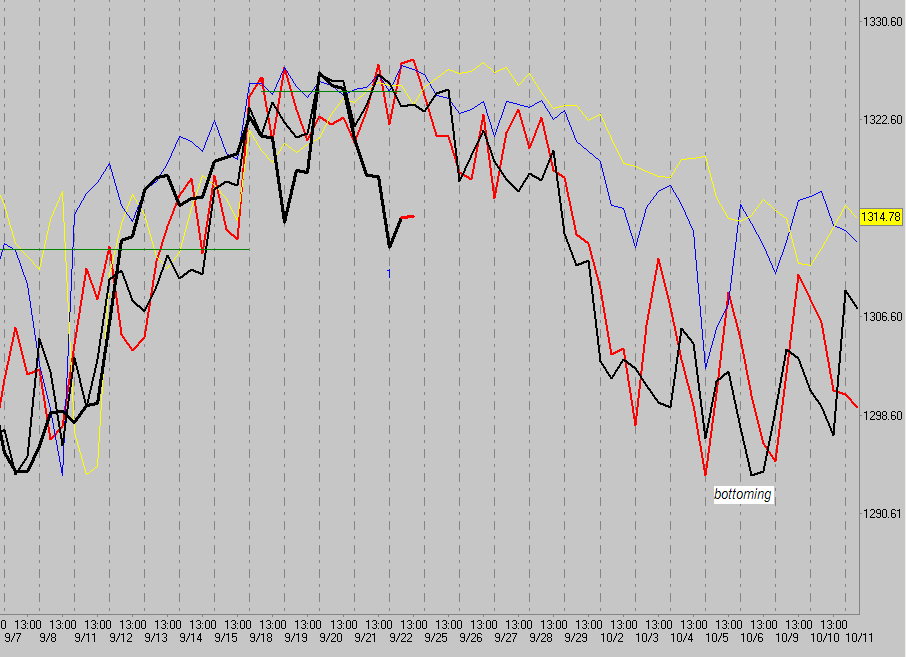 SEPT 17TH
MARKET IS TOPPING THIS WEEK , LOOK FOR A DECLINE INTO EARLY OCTOBER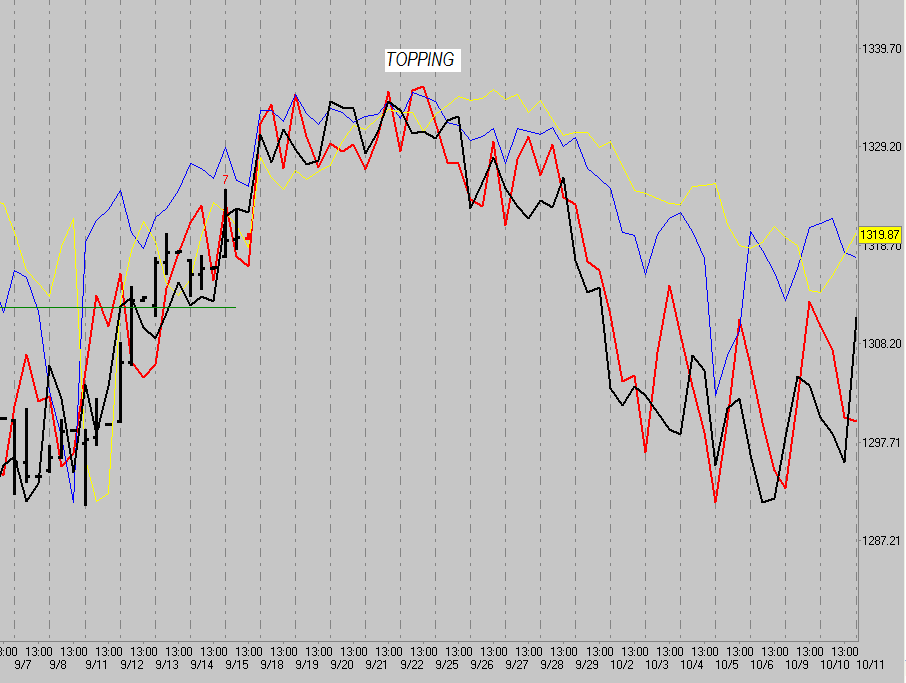 AUG 18TH
MARKET IS TOPPING NOW , LOOK FOR A DECLINE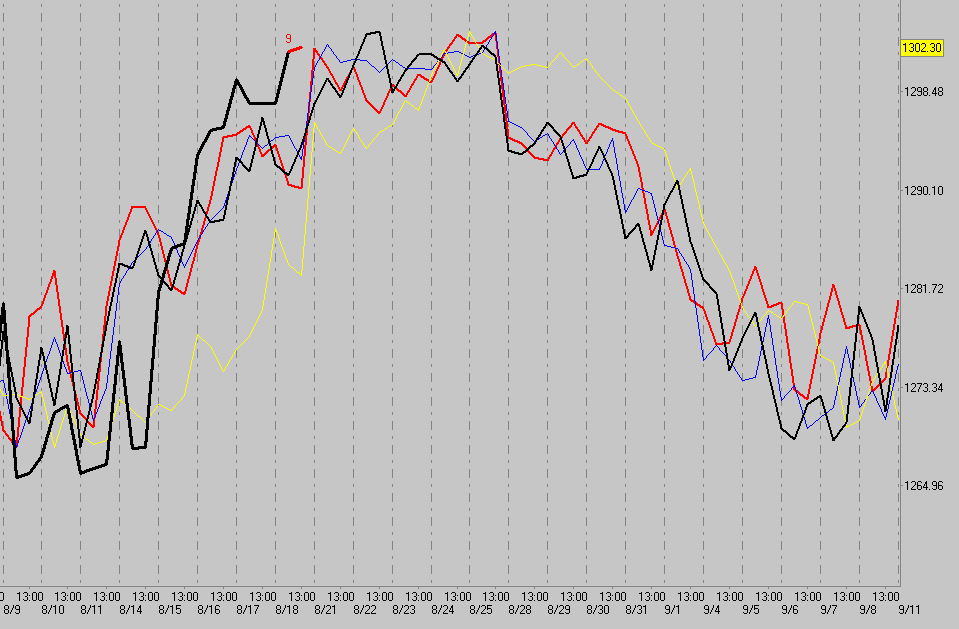 AUG 10TH
THIS SHORT TERM MODEL IS NOW TURNING UP
LOOK FOR A HIGH NEAR AUG 25TH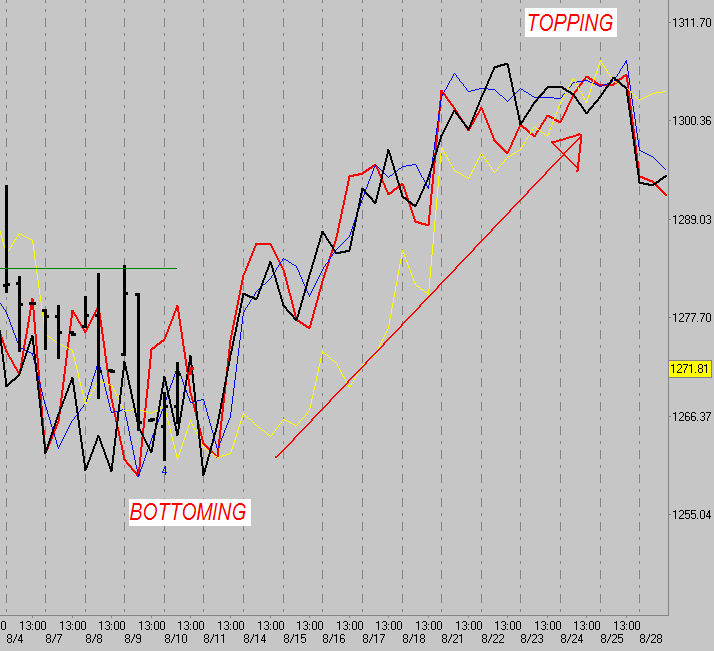 JULY 11TH
LOOK FOR A HIGH INTO JULY 24TH
DUELING BRADLEY MODEL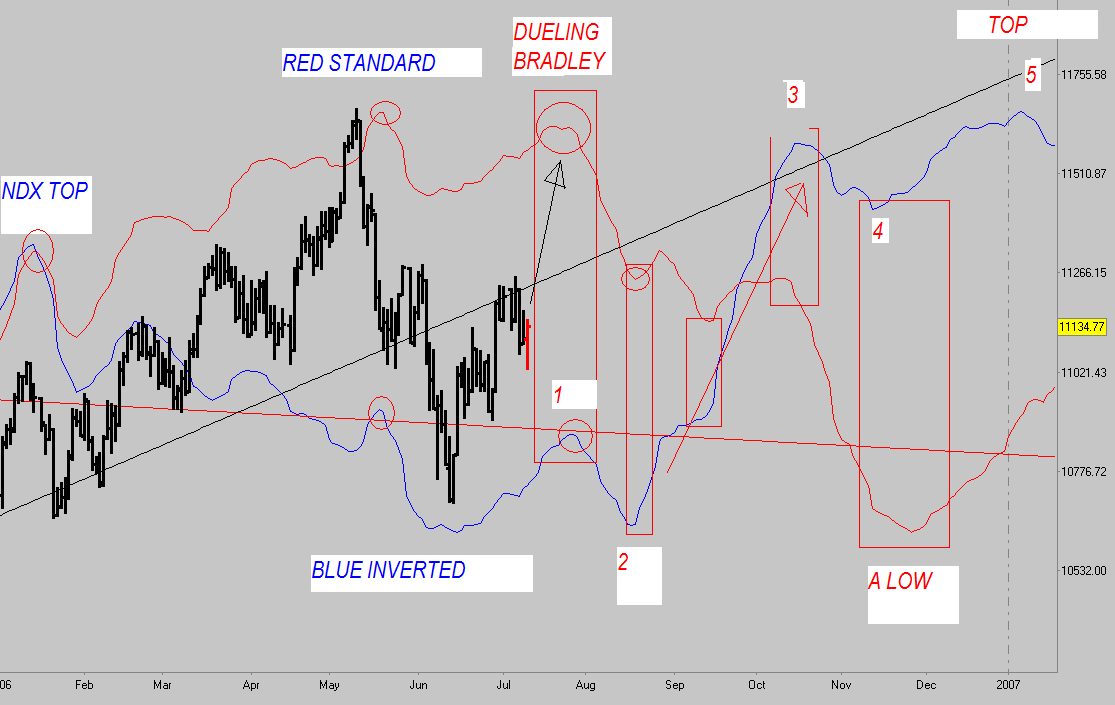 JULY 2ND
LOOK FOR LOWER PRICES INTO JULY 11 TH 12TH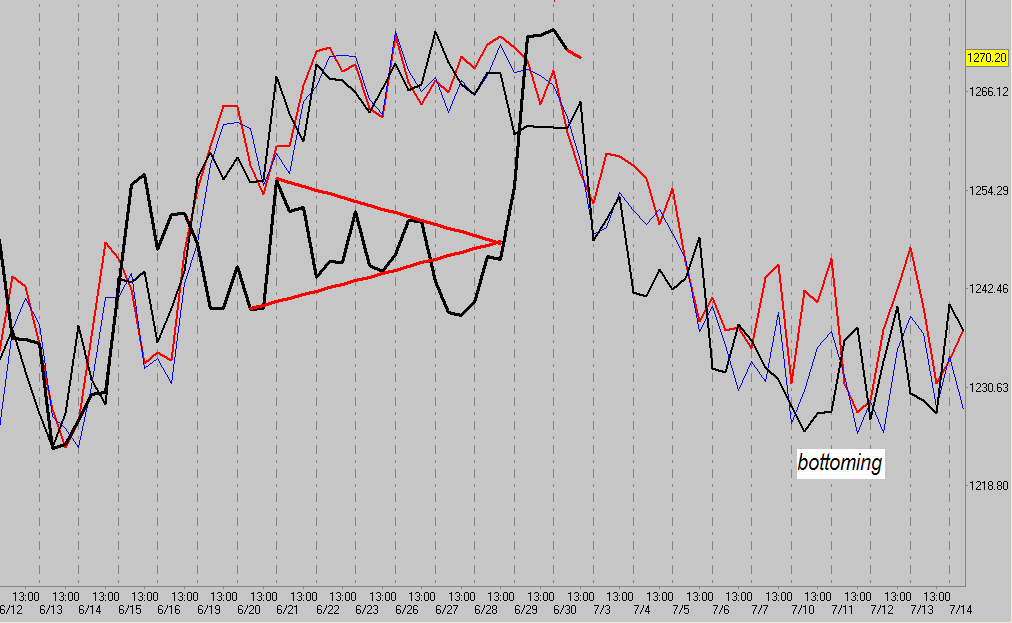 JUNE 17TH
LOOK FOR HIGHER PRICES INTO LATE JUNE EARLY JULY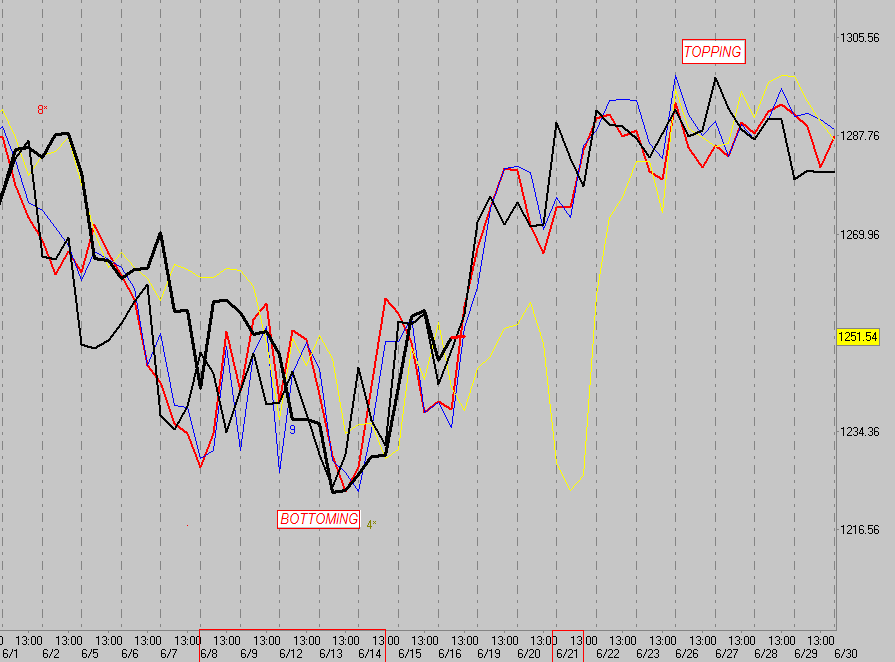 MAY 27TH
A REVERSAL IS NOW DUE INTO MID JUNE , LOOK LOWER
MAY 21
SHORT TERM THIS TIMING MODEL IS CALLING FOR A RALLY INTO MAY 23RD..
FROM MAY 26TH - MAY 31ST LOOK FOR A TOP . JUNE 2ND -JUNE 5TH SHOULD BE DOWN DAYS
LOOK FOR A LOW JUNE 9TH-JUNE 14TH
MARCH 2 2006
LOOK FOR LOWER PRICES INTO MARCH 10TH
WATCH MARCH 7TH AND 8TH FOR A SHORT TERM LOW NEAR 1271
AND WATCH MARCH 13-14TH FOR A SHORT TERM LOW NEAR 1265
TURN BULLISH ON THE LATER DATE IF IT IS A LOW
VERY SHORT TERM MARCH 10TH IS LOOKING LIKE A TOP OF SORTS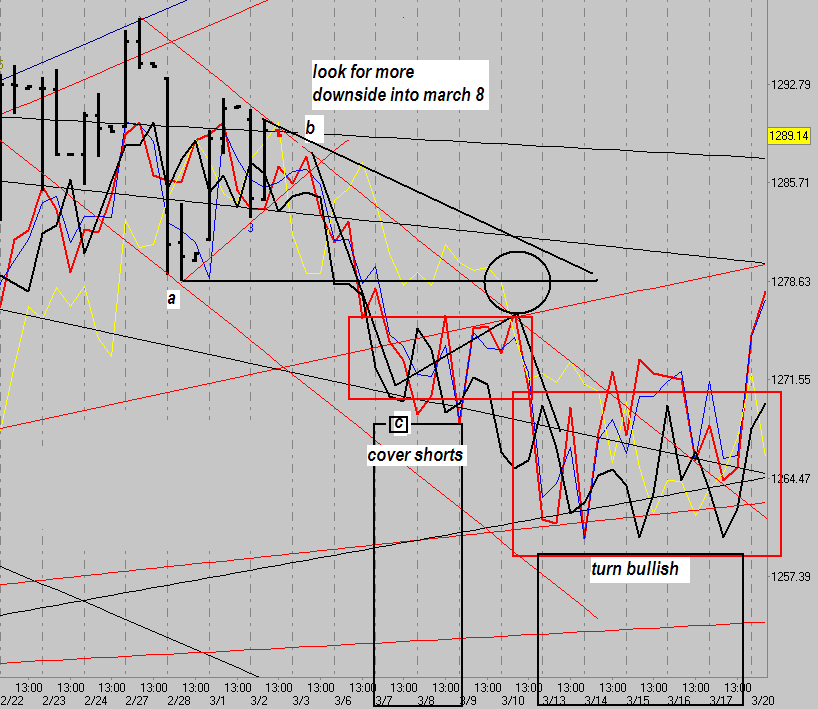 FEB 26TH
START LOOKING FR SHORT TERM REVERSAL PATTERNS , WERE NOW INTO THE
CYCLE TOP PERIOD WHICH BEGINS IN THE FIRST HOUR OF TRADING MONDAY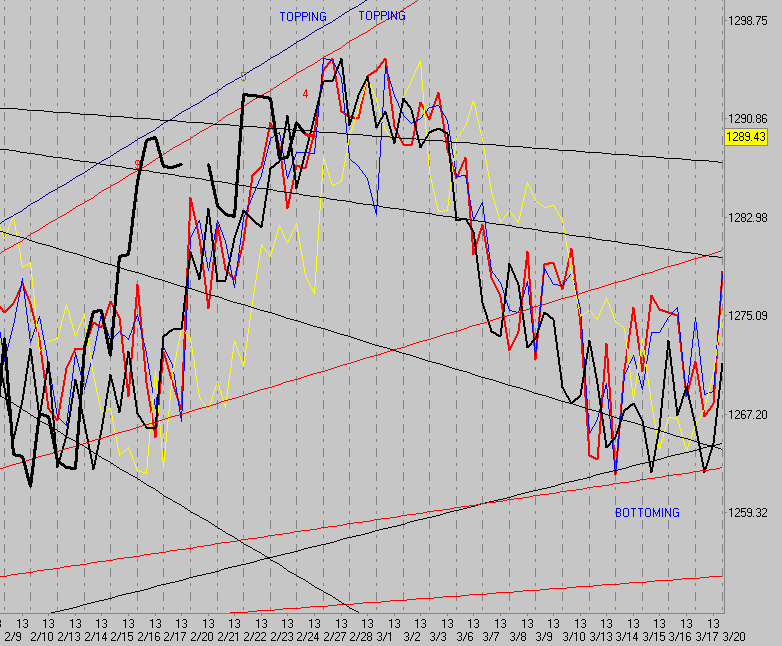 FEB 19TH 2006
THE PRIOR CALL OF A MOVE UP INTO FEB 15TH FOR A TOP SHOULD NOW ALLOW FOR
AN EXTENSION OF TIME INTO FEB 27TH .
5 TRADING DAYS TO GO .
FOR TUESDAY EXPECT A MINOR PULLBACK TO ABOUT 1276 FOLLOWED BY A MOVE UP
TO 1302
CONSIDER 1300 AS THE RESISTANCE OF IMPORTANCE AND TURN BEARISH
FEB 27TH ON CLOSE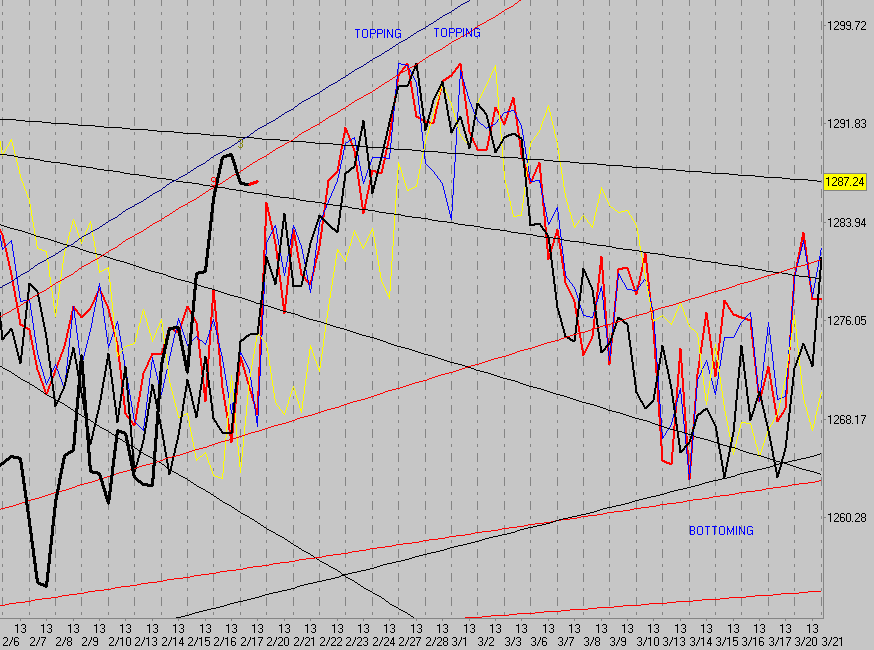 JAN 20 2006
LOOK FOR A LOW FROM JAN 27TH FOLLOWED BY A RALLY INTO
FEB 9TH - 15TH .
SEE BELOW FOR LONGER TERM MODELS FOR 2006 AND PRIOR FORECASTS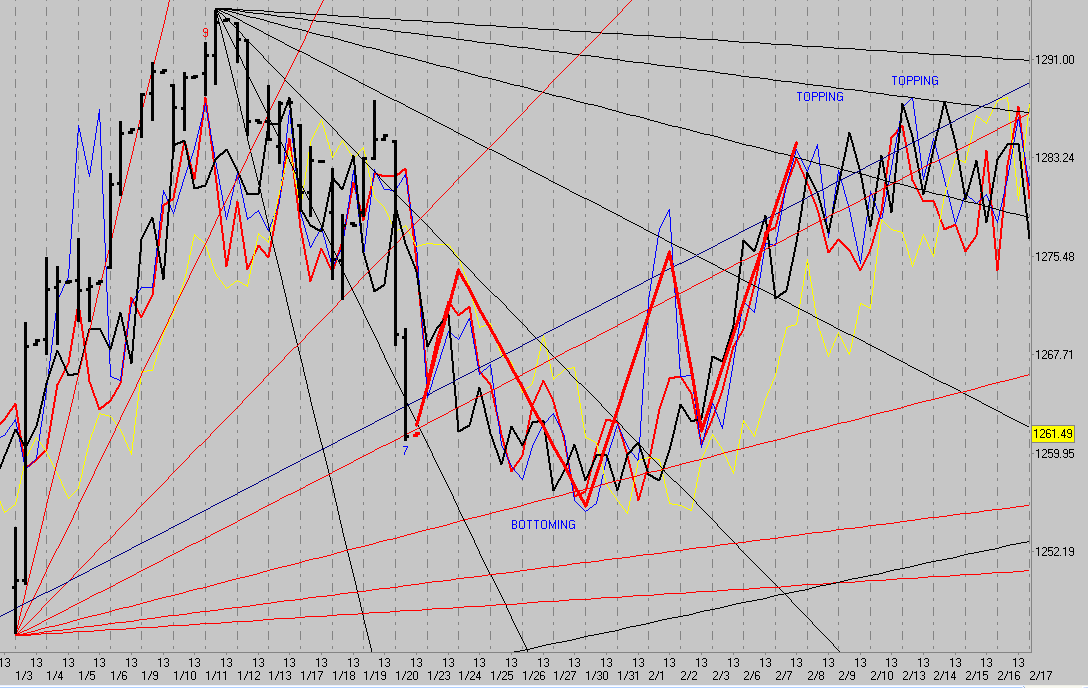 LONGER TERM SWING DATES FOR 2006 BASED ON BRADLEY MODEL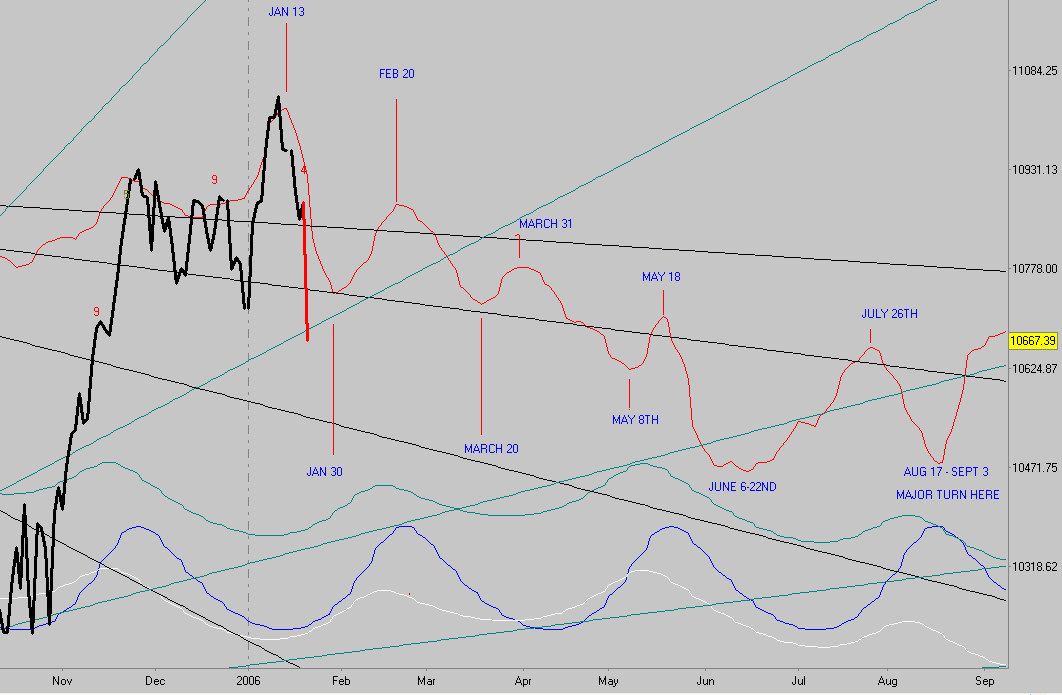 JAN 30, 2006
MY LONGER TERM TIMING MODEL FROM JAN TO JUNE 2006
( THE LARGEST MOVE HERE IS FROM LATE MARCH TO MID JUNE )
OVERALL DIRECTIONAL BIAS IS BEARISH INTO MID JUNE AT THE EARLIEST
THIS SHOULD BE USED AS A GUIDELINE. I TRY TO MAKE THESE VERY ACCURATE YET
AS WITH ANY TRADING STRATEGY PLEASE USE CAUTION AND MONEY MANAGEMENT BEFORE
TRADING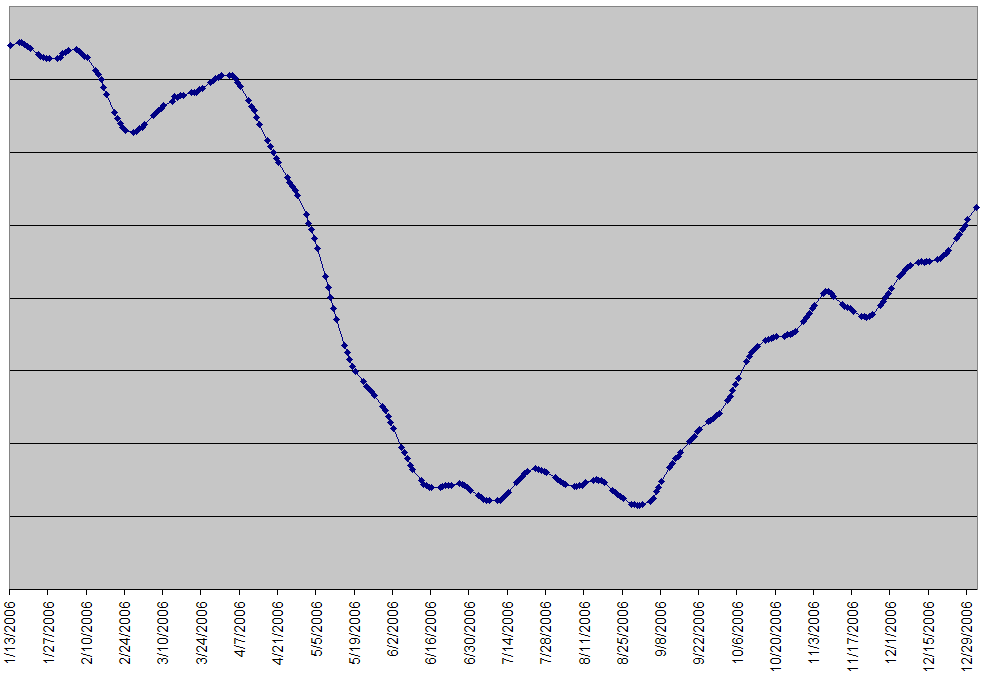 DEC 30 2005
SEE PRIOR FORECASTS BELOW
LOOK FOR A RALLY INTO JANUARY 13TH - 16TH FROM FRIDAY DEC 30TH MONDAY JAN 2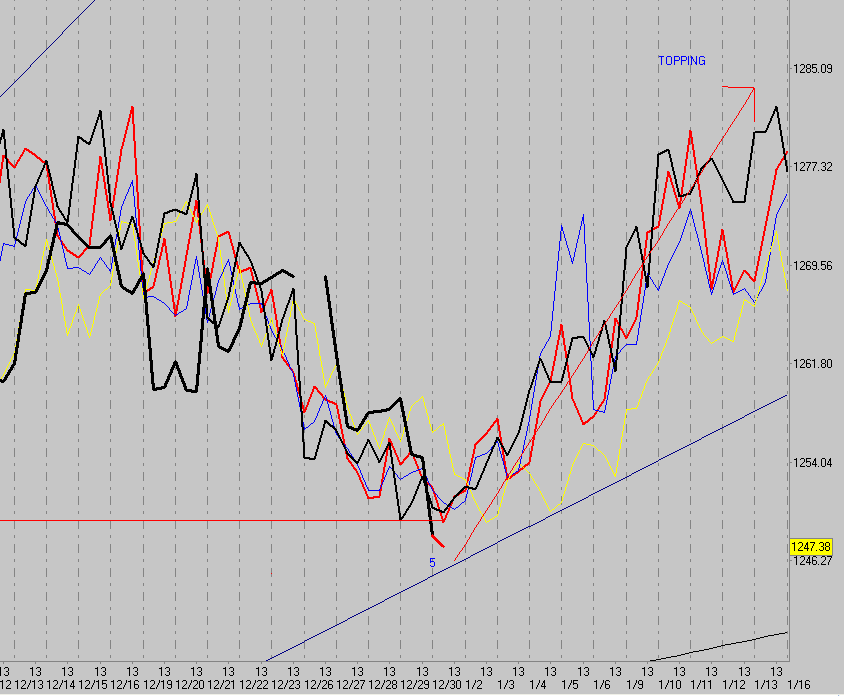 DEC 18 2005
UNLESS THIS IS ABOUT TO INVERT ( SEE INDICATORS ) I HAVE TO BE VERY CONCERNED OF A DECLINE
COMING SHORT TERM . BASED ON THIS MODEL ( SEE PRIOR BELOW ) WE SHOULD BE ABOUT TO SEE
A DECLINE IN THE STOCK MARKET . LOOK FOR LOWER PRICES INTO DEC 30TH .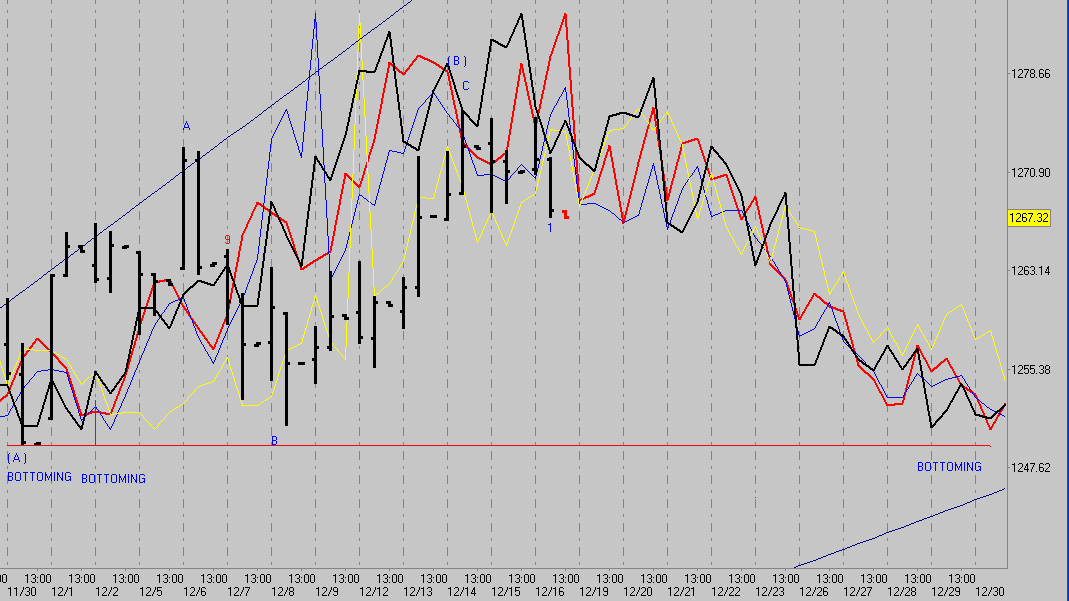 PRIOR FORECASTS
NOV 29TH
SHORT TERM BOTTOMING
THIS IS A 15 MINUTE CHART , LOOK FOR A LOW AND A REVERSAL BACK UP FROM 0800 FRIDAY .
LONGER TERM CHART BELOW THIS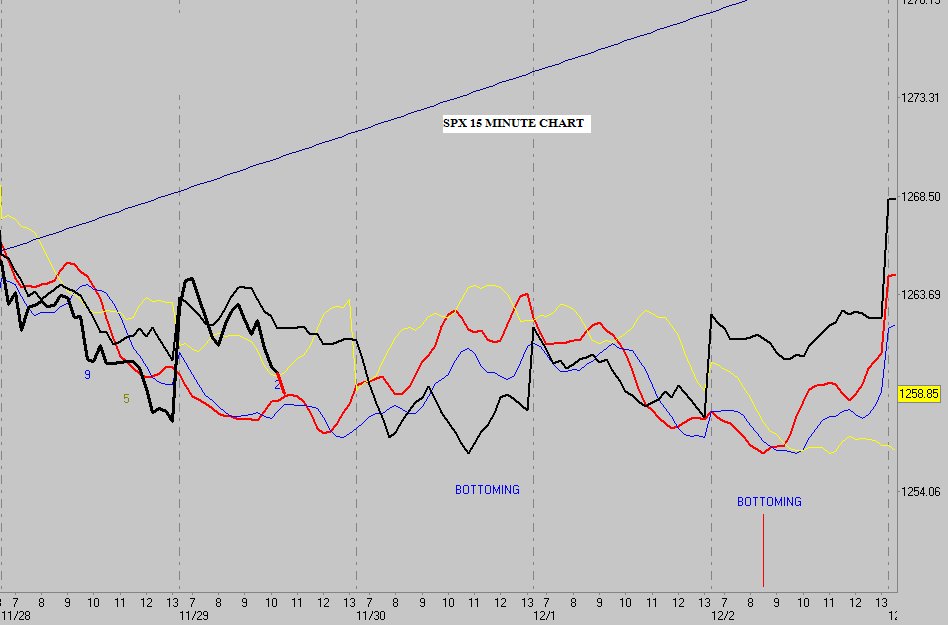 NOV 29TH
LOOK FOR A TOP AND TURN BEAR , DEC 9TH TO DEC 15TH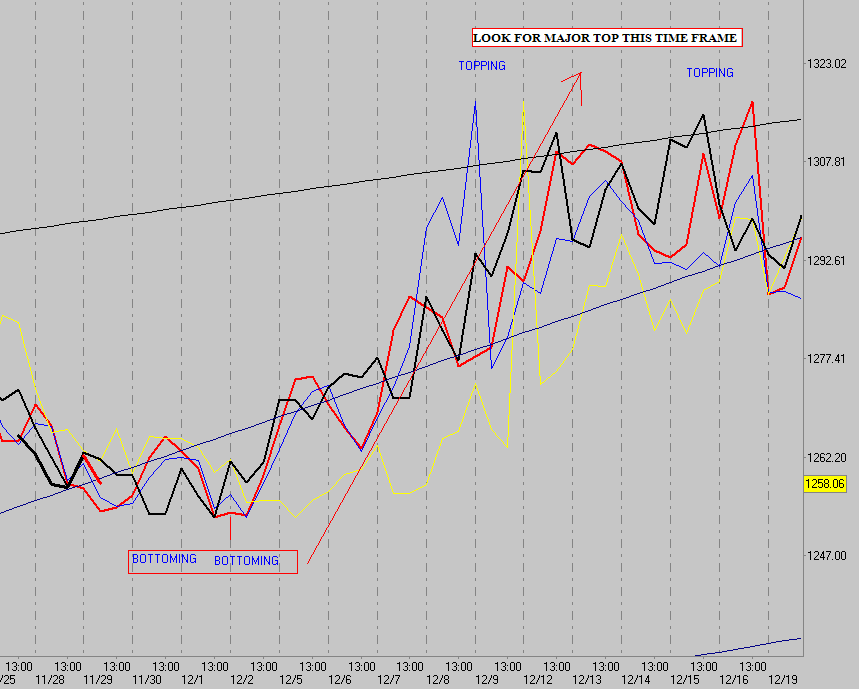 NOV 7TH
THIS INDEX IS PUTTING IN A MAJOR TOP . IT SHOULD BE COMPLETE IN THE COMING DAYS .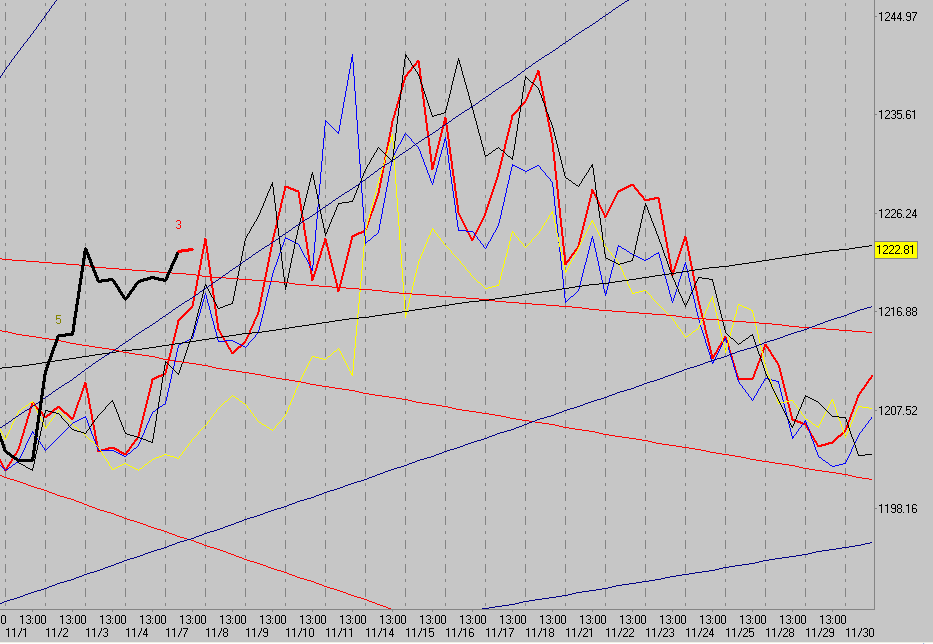 OCT 26TH
THE NEXT FEW DAYS ARE CRITICAL LOOK FOR HIGHER PRICES
WATCH 1185 AS SUPPORT , 1220 IS THE TARGET FOR NOW INTO NOV 2ND
A GOOD TIME TO EXIT AND LOOK FOR LOWER PRICES IS FROM OCT 31 ON CLOSE
NOV 15TH -16TH IS THE NEXT TURN DATE FROM HERE AND MIGHT BE THE TOP
YET WE SHOULD BE ON GUARD FOR A REVERSAL DOWN FROM OCT 31 ON CLOSE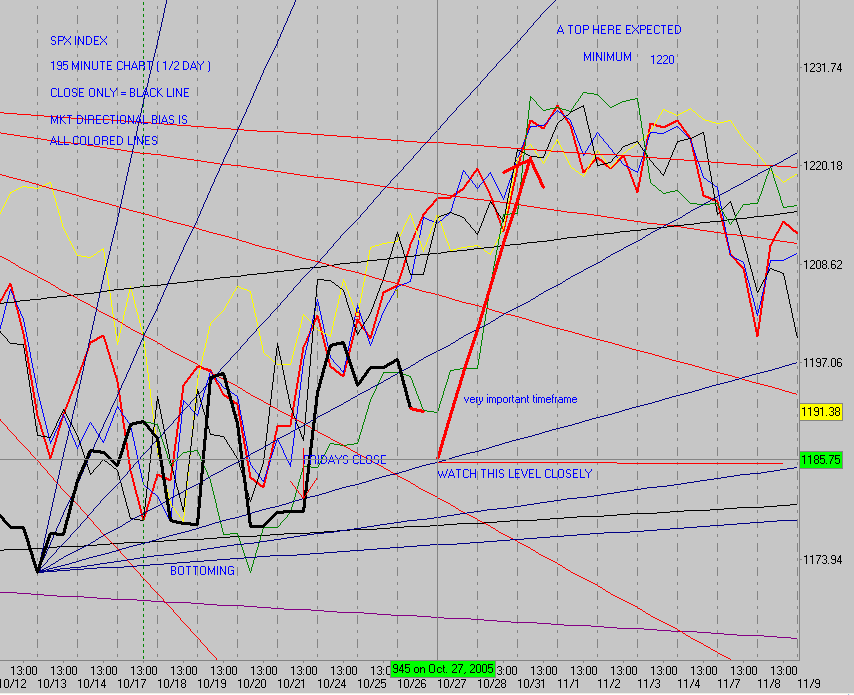 OCT 11TH /24TH
THIS MARKET IS NOW COMING INTO A LOW . IDEAL LOW IS OCT 14TH TO 17TH , WATCH THE 18TH
WEDNESDAY OCT 19TH NEEDS TO BE AN UP DAY !!!!!
THE TREND SHOULD BE CHANGING NOW
THE MOVE HIGHER ON OCT 19TH GIVES US THE NEXT CYCLE LOW RIGHT HERE
MONDAY OCT 24TH SHOULD NOW BE THE EARLY STAGES OF WAVE 2 OF WAVE 2 UP .
SEE WEEKLY UPDATE FOR DETAILS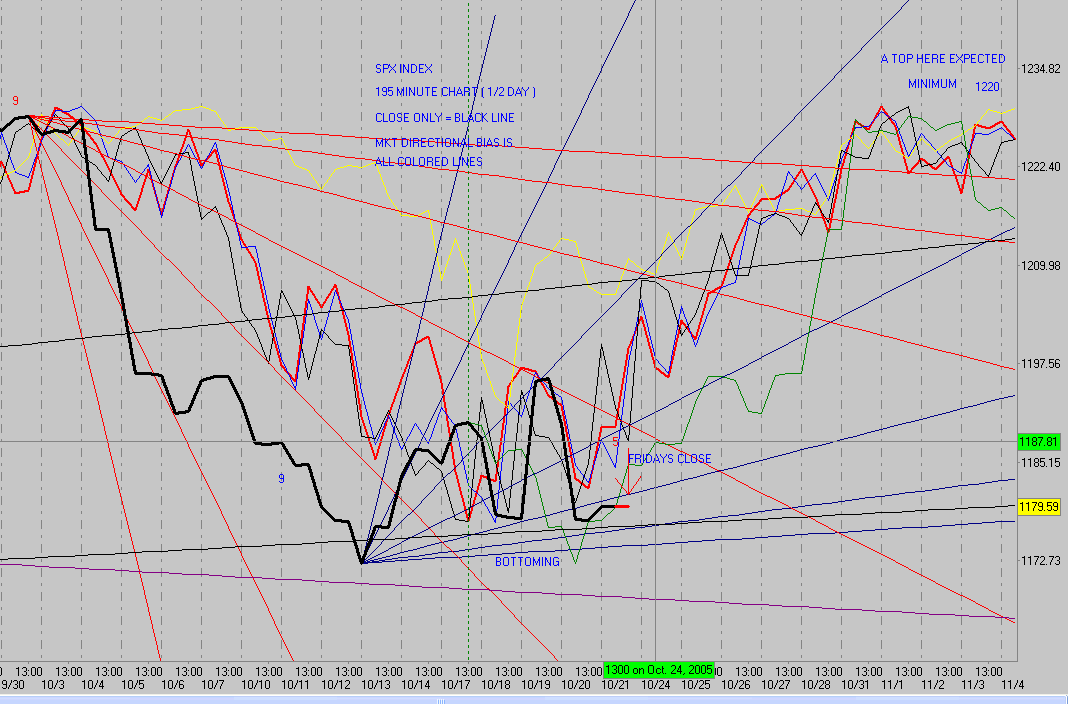 UPDATED EARLY SEPT 19
THIS ALLOWS FOR A TOP ON TUESDAY YET EVERYTHING IS SAYING BE BEARISH NOW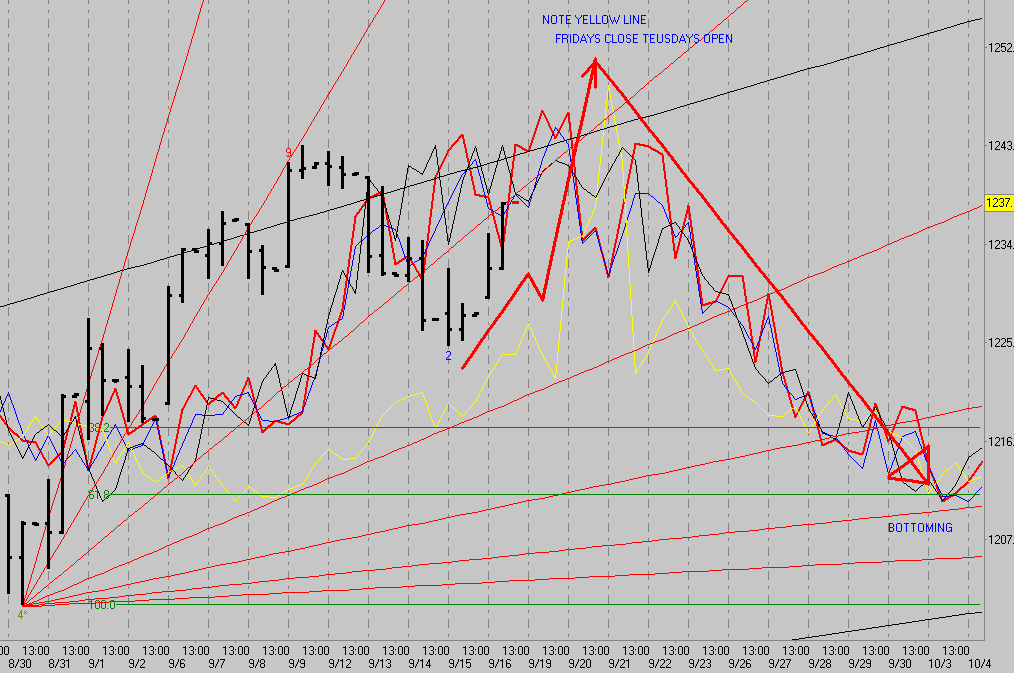 UPDATED THURSDAY SEPT 15
WATCH OUT FOR A MOVE TO THE UPSIDE ON FRIDAY , IF THIS HAPPENS TURN BEARISH
MONDAYS CLOSE OR TUESDAY OPEN AND LOOK FOR A LOW INTO LATE SEPT EARLY OCT
IDEAL OCT 3RD - 4TH IS A LOW . I REMAIN BEARISH THE SPX INDEX
THIS IS A DIRECTIONAL BIAS MORE SO THEN A PRICE BIAS .
UPDATED SEPT 3 , 2005
WHILE ALL OF MY TIMING WORK IS CALLING FOR A TOP RIGHT NOW . I HAVE A COUPLE CONCERNS
ABOUT THIS TAKING A BIT LONGER TO PLAY OUT . AS USUAL THE MKT MAKES US WAIT . THE LONG TERM
MODEL IS NOW POINTING HARD DOWN . A CONTINUED RALLY FROM EARLY SEPT 6TH INTO THE 19TH
WOULD CREATE A MORE BEARISH OUTLOOK . THIS MOVE CAN BE A FINAL 5TH WAVE UP AS OIL PRICES
DECLINE OR IT CAN BE JUST A C WAVE UP . KEY HERE IS TUESDAYS LOWS . THE KEY LEVEL 1211.20
IF THE MARKET CAN MANAGE A RALLY NEXT WEEK THEN LOOK TO TURN AGGRESSIVELY BEARISH
FROM SEPT 19TH TO THE 21ST . THIS CYCLE WOULD CALL FOR A LOW IN EARLY OCTOBER .
YET AGAIN I REMAIN BEARISH INTO EARLY NOVEMBER .
SEE CYCLES AND MARKET CYCLES BELOW THIS CHART .
LAST NOTE , REGARDLESS OF THE SHORT TERM I AM BEARISH .
UPDATEDE CHART BELOW THIS ONE TO REFLECT MKT ACTION SINCE THIS FORECAST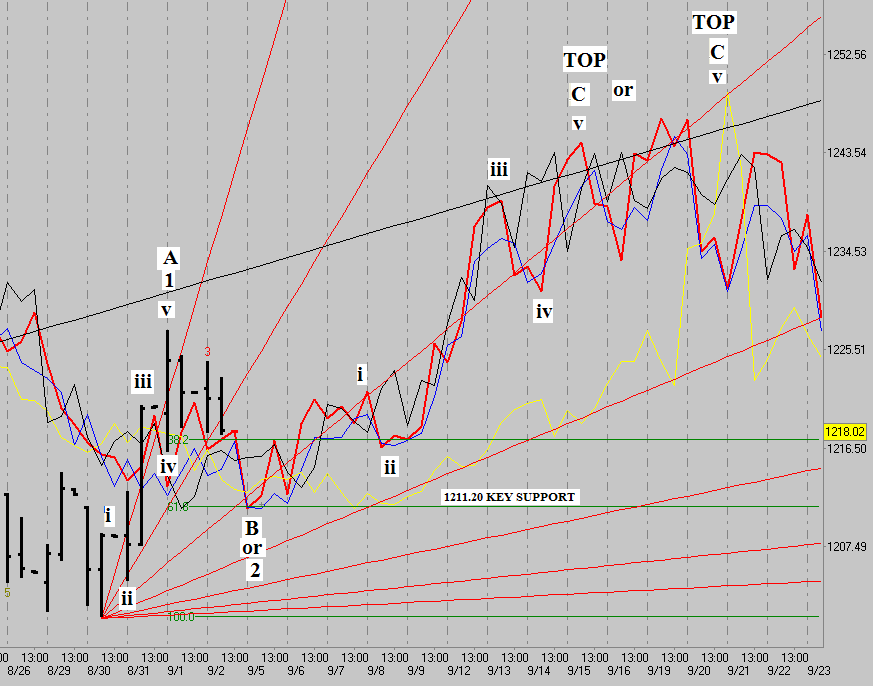 THIS CHART WAS ADJUSTED AS THE 9/5 DATE WAS LABOR DAY AND THE STOCK MKT WAS CLOSED .
I USE THIS CHART FOR TIMING MAINLY AND DIRECTION ON THE MKT . NOTICE HOW THE OVER ALL
PATTERN IS SIMILAR TO THE FORECAST ????? . THIS ADDS CONFIDANCE TO NEXT WEEK BEING A TOP
AND OCT 3RD 4TH BEING A LOW .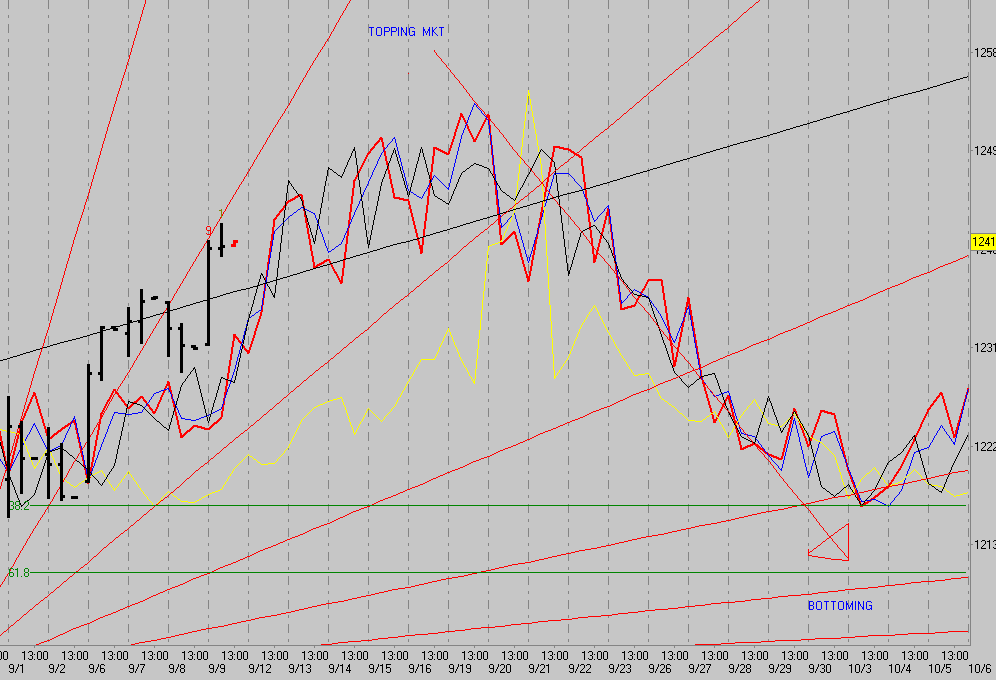 CYCLES ARE JUST THAT CYCLES , THEY DON'T ALWAYS WORK YET I HAVE A HIGH REGARD FOR THEM
THIS IS A COMPLEX MATHEMATICAL MODEL IN ALL , TO CREATE A 4 MONTH FORMAT FOR THIS LAST QUARTER
OF 2005 I HAD TO GO THROUGH 3750 CALCULATIONS . THIS IS TIME CONSUMING AND I REALIZE NUTS
BUT THEY ARE EXACT . IT IS JUST A MATTER OF WEATHER THE MKT WANTS TO CATER TO IT .
NOTICE THE TURN DATES . TOPS OR BOTTOMS IN THE MKT I DON'T CARE . JUST TRADE THE OPPOSITE
THIS IS THE MOST IDEAL SET UP FOR THE CRASH THEORY I HAVE NOTED ALL YEAR
THE MAJOR QUESTION IS WHAT IS THE DIRECTION . THE CHART ABOVE DOES SHOW A SMALL 5 WAVE MOVE
UP . SO THAT IS THE KEY . A BREAK BELOW THE AUG 30TH LOWS WOULD IMPLY A DOWN MKT INTO
MID MONTH . NEXT CHART BELOW IS THE MKT CYCLES CHART . AND THAT LEADS US TO A FEW CONCLUSIONS
KEEP IN MIND THAT THIS IS A CALENDAR DAY CHART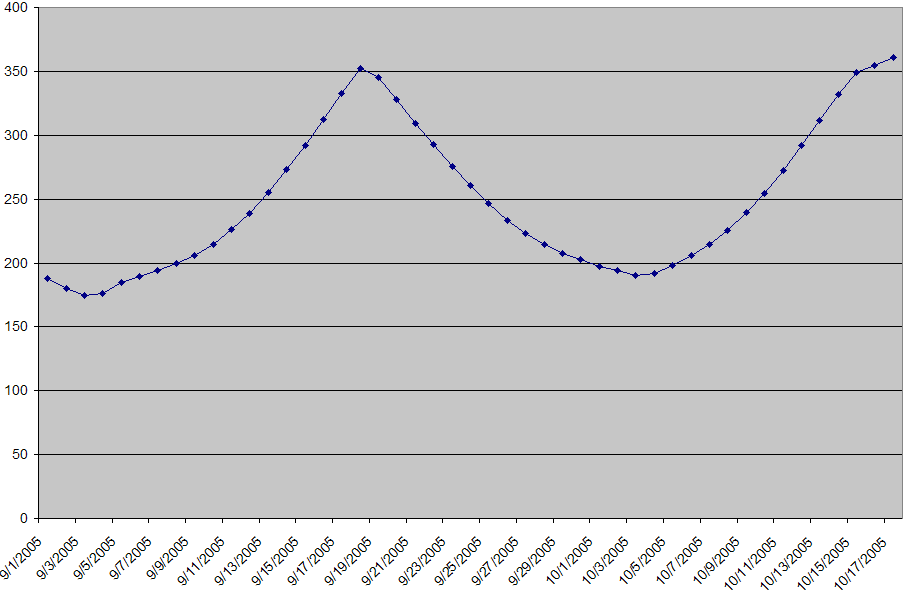 FOCUSING ON MARKET TIMING IS MY GOAL . MY TIMING MODELS ARE MATHEMATICAL . I DO REALIZE THE PROBLEM
WITH BEING HUNG UP ON A DATE . BUT IT IS WHERE I CHOOSE TO TRADE MY MONEY . THE KEY DATES .
OCT 4TH IS A KEY DATE AND A MARKET 118 TRADING DAY CYCLE LOW . THE KEY IS FIGURING OUT HOW WE GET THERE
HERE IS THE CHART SINCE NOV 2003 . ALMOST 2 YRS THIS HAS BEEN WORKING .
THIS CHART IS SCREAMING LOOK OUT BELOW .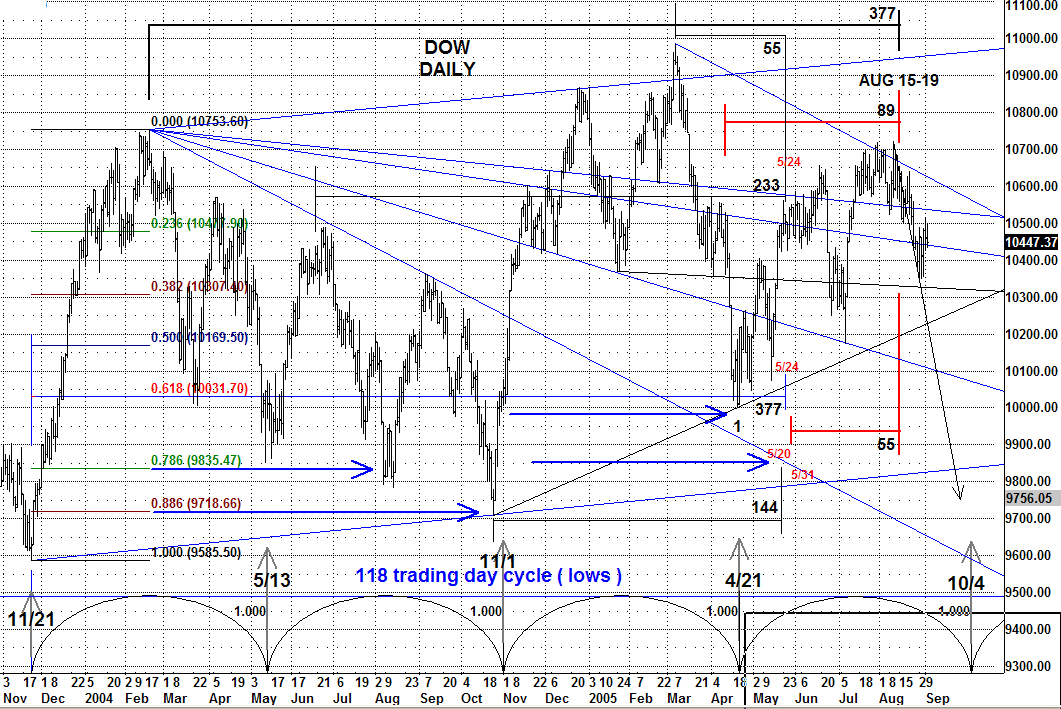 PRIOR OUTLOOK , SOMETHING IS CHANGING
SEPTEMBER IS EXPECTED .
NOTE AUG 24TH IS ALSO A FIBONACCI TURN DATE .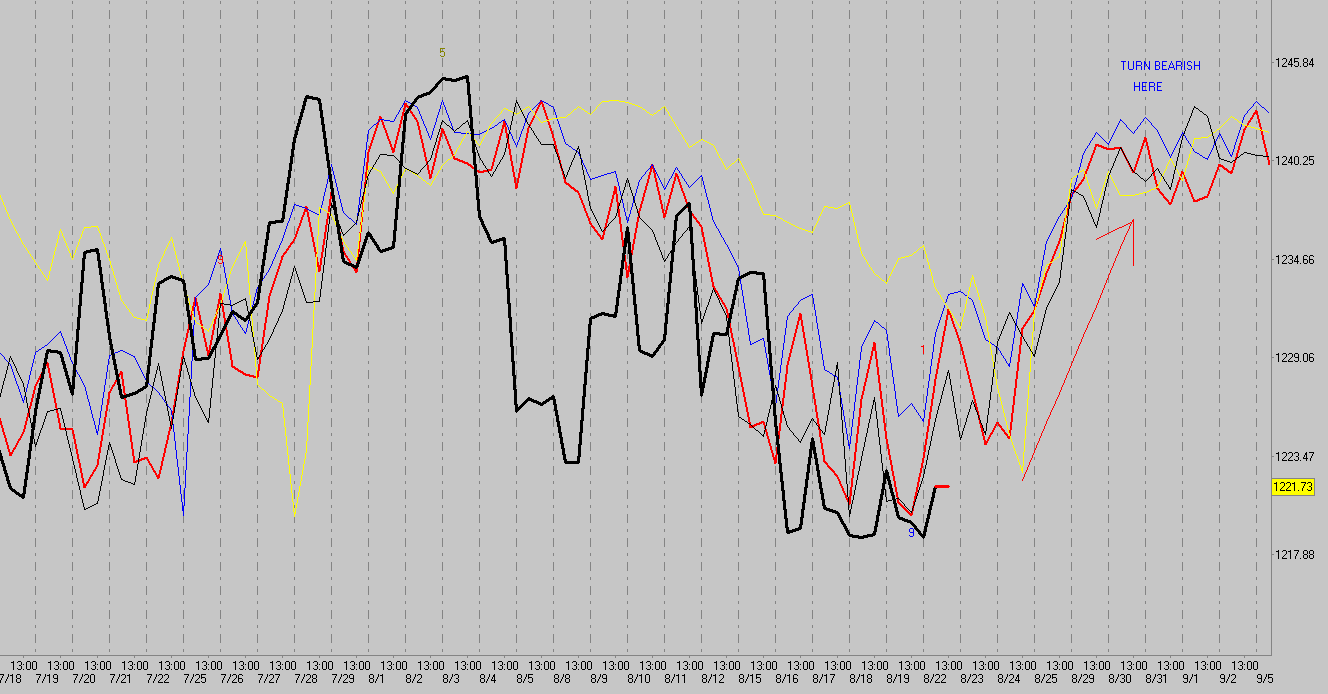 LONGER TERM CYCLE CALL FOR A TOP AUG 30TH ,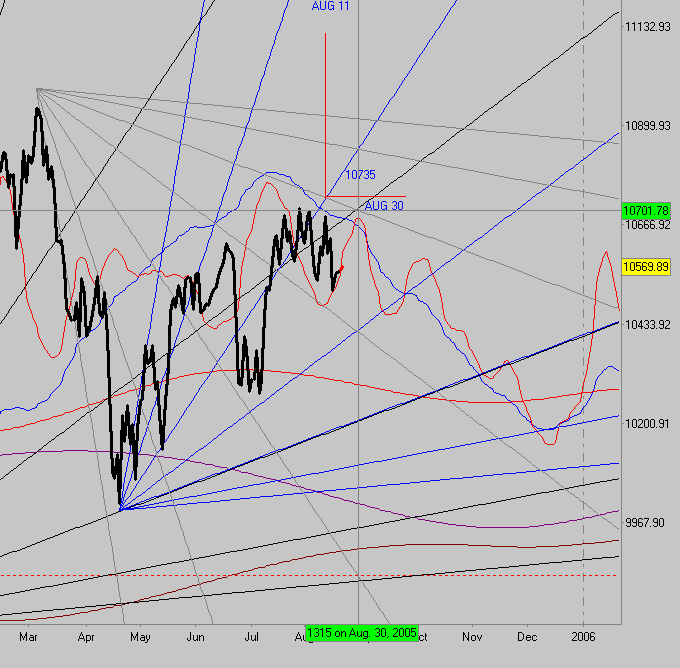 THIS MODEL IS STILL NOT FINISHED YET . AND SO FAR THE TURN DATES HAVE BEEN GOOD BUT THE DIRECTION
HAS BEEN COMPLETELY OPPOSITE OF WHAT THE MKT DID . IL WORK ON THIS SOME MORE , UNTILL THEN
ILL STICK TO THE SHORTER TERM MKT CALLS AS THEY ARE CURRENTLY MORE ACCURATE .

PRIOR
MIXED MKT FOR TUESDAY .
SHORT TERM
UP TREND SHOULD CONTINUE INTO MAY 10 TH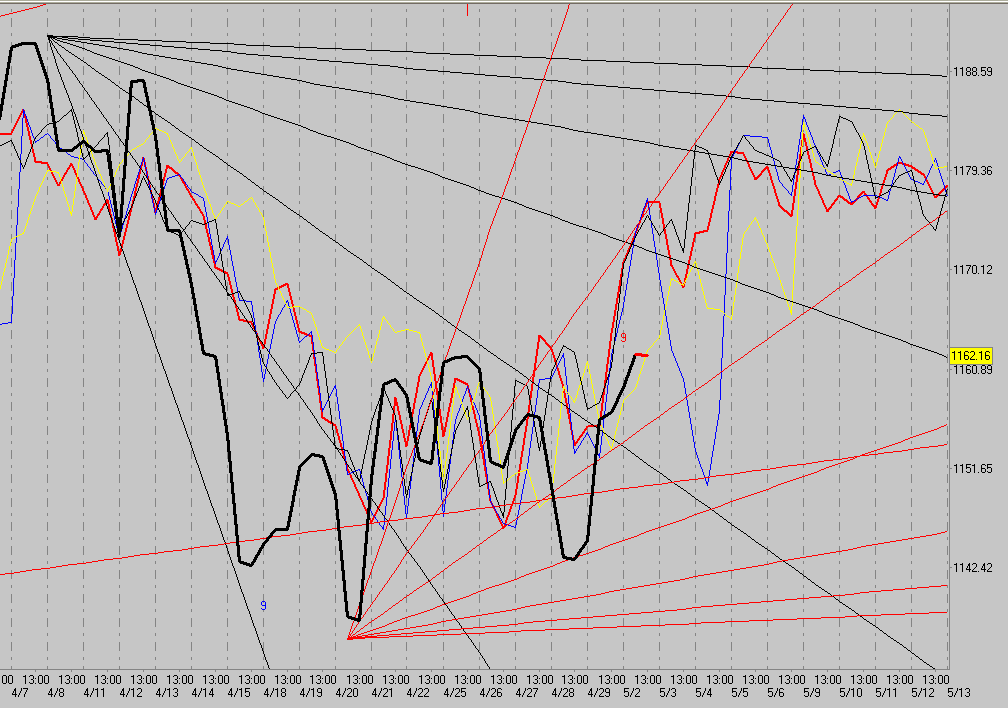 PRIOR FORECASTS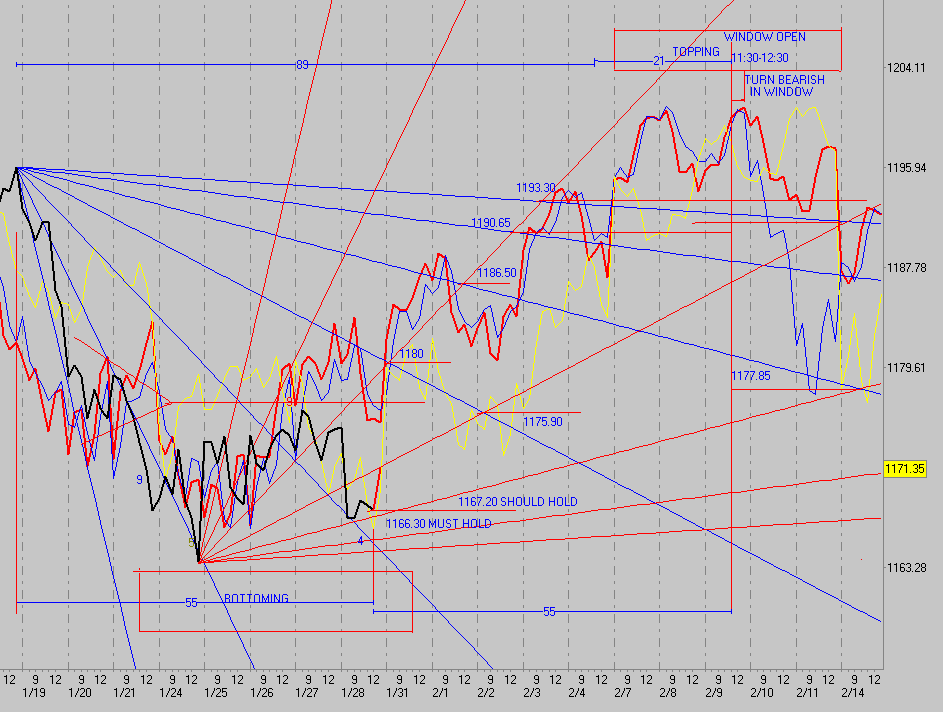 BOTTOMING ( LONGER TERM UPDATED BELOW )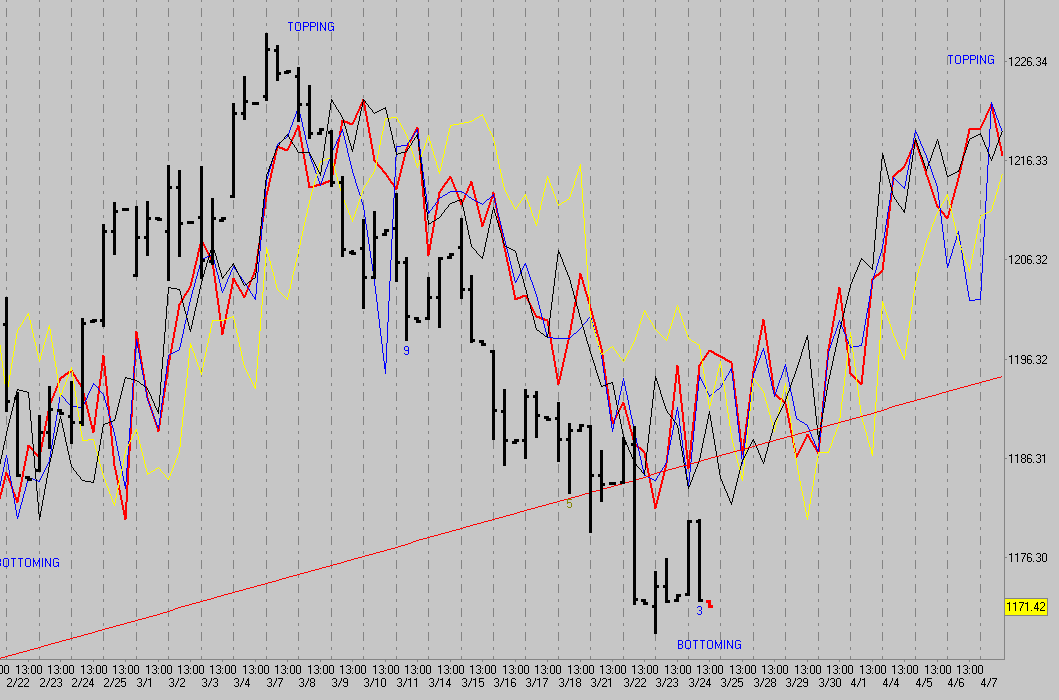 PRIOR OUTLOOK
THIS WEEK IS A BOTTOMING WEEK START WATCHING FOR IMPORTANT SUPPORT AREAS TO GO LONG THE MARKET.. IM LOOKING FOR A HIGH IN EARLY SEPTEMBER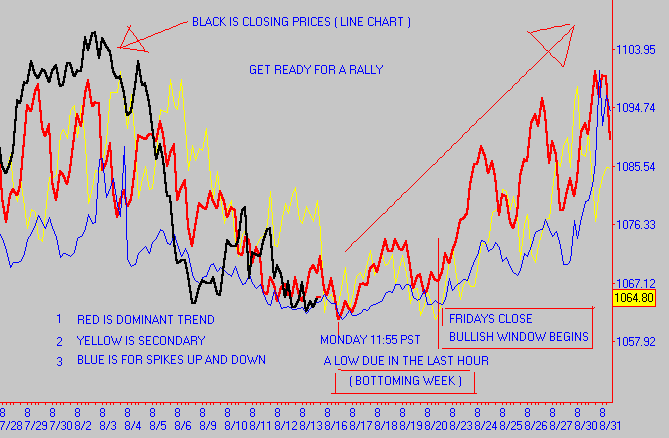 LONGER TERM CYCLES ARE POINTING DOWN ( NOTE this goes out to 2007 )
SEE UPDATED BELOW THIS CHART
KEY DAYS ARE
JUNE 14TH AND JUNE 29TH THEN JULY 15TH AND AUG 11TH AND AUG 30-SEPT 3RD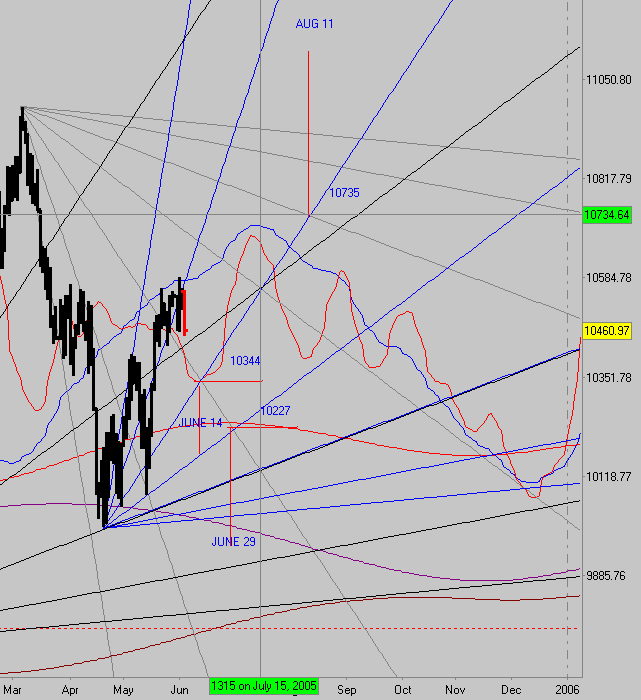 This page is is based on a model that has been fairly accurate . yet we should all use caution and make our investment decisions as well as do our own research . people can and do loose money trading these indexes. This model may NOT always work as PAST PERFORMANCE IS NO GUARANTEE OF FUTURE RESULTS
Copyright © 2004 CompanyLongName Last modified: December 20, 2008