...............
FIBONACCI
IN ORDER TO TRULY TAKE ADVANTAGE OF THE FIBONACI SERIES WE MUST FIRST REALLY UNDERSTAND ELLIOT WAVE THEORY . HOW EVER THIS DOES NOT MEAN THAT USING FIBONACI ALONE WONT HELP YOU IN YOUR TRADING .
THE SERIES AS MANY OF US ALREADY KNOW IS:
1 2 3 5 8 13 21 34 55 89 144 233 377 610 987 1597 2584 ECT.......
EACH OF THESE NUMBERS ARE ROUGHLY .618 AND 1.618 TIMES EACH OTHER :THIS RATIO IS THE BASE OR STARTING POINT FOR MOST PRICE ACTION YET IT IS NOT THE ANSWER TO EVERY ACTION OR REACTION IN THE STOCK MARKET .
IN ORDER TO GET A BETTER GRASP AND NOT FILL OUR CHARTS WITH SO MANY PRICE LEVELS WE NEED TO NARROW DOWN OUR PRICE TARGETS FOR SUPPORT AND RESISTANCE AS CLOSE AS WE CAN SO WERE NOT FORCED OUT OF A GOOD TRADE BECAUSE OF A LARGE RISK ( HAVE YOU EVER GOTTEN OUT OF A BAD TRADE ONLY TO SEE THE MARKET TURN AROUND AND TURN BACK INTO THE DIRECTION YOU WERE LOOKING FOR ?? )
SO WHAT BEARING DOES ALL OF THIS HAVE ON OUR TRADING ? FIRST OF ALL WHAT MANY PEOPLE DON'T REALIZE IS THE CLOSING PRICE ON A GIVEN DAY OR WEEK OR MONTH IS MORE IMPORTANT THAN THE ACTUAL HIGH OR LOW . NOW MANY PEOPLE MAY DISAGREE WITH THAT STATEMENT YET AT THE END OF THE DAY WHAT IS IT THAT YOU LOOK AT ??? ( THE CLOSE ) WHAT DO OTHER PEOPLE LOOK AT AFTER THEY GET HOME FROM WORK ( THE CLOSE ) HOW MANY PEOPLE ACTUALLY SIT IN FRONT OF A COMPUTER ALL DAY TRYING TO FOLLOW EVERY SWING OR EVERY HIGH AND LOW ???
THIS IS WHERE WE BEGIN ...........................................................................
THERE ARE MANY WAYS TO USE THE FIBONACII SERIES TO IDENTIFY POTENTIAL PRICE LEVELS
RETRACEMENTS
THE FIRST STEP OF USING FIBONACCI IS TO FIND A VOLATILE MARKET TO TRADE . WHY ?? BECAUSE IN ORDER TO FIND IMPORTANT PRICE LEVELS TO TRADE OFF OF YOU NEED TO BE ABLE TO IDENTIFY BOTH A HIGH AND A LOW . IF THE MARKET IS JUST TRENDING IN 1 DIRECTION FOR A LONG PERIOD OF TIME YOU WILL HAVE TO GO BACK FURTHER IN TIME IN ORDER TO FIND A PREVIOUS HIGH TO TRADE OFF OF . SAME GOES FOR LONG TRENDING DOWN TRENDS .
THE NEXT STEP IS TO FIND A SERIES OF HIGH'S AND LOW'S WERE THE MARKET HAS HAD SHORT TERM TREND CHANGES FROM THESE SWINGS IN PRICES WE FIND THE CLOSE OF THE LOW AND THE HIGH AND WE RUN A FIBONACCI PROGRESSION OFF OF THESE LEVELS USING .236 .382 .50 .618 .786 . WE BEGIN IN A LONGER TERM CHART FOR THE MAJOR LEVELS FIRST . SO WE ASK OURSELVES WHERE WAS THE ALL TIME MONTHLY CLOSING HIGH IN THIS MARKET AND THEN THE CLOSING LOW . NEXT WE GO TO THE WEEKLY CHART ( THE PURPOSE OF THE MONTHLY CLOSING HIGH OR LOW IS FOR TIMING ( DISCUSSED IN TIMING SECTION ) WE FOCUS ON THE WEEKLY CHARTS FOR PRICE AND TIME EQUATIONS THEN WE GO TO DAILY CHARTS THEN INTRADAY . THE FURTHER DOWN THE LINE WE GO IN TERMS OF PRICE AND TIME THE CLOSER WE WILL TO ENTERING THE MARKET AT OR JUST BEFORE A CHANGE OF TREND . BY DOING THIS WE WILL BE ABLE TO LIMIT OUR RISK IN CASE WE ARE WRONG . AND THAT IS WHAT WE NEED TO DO WHEN TRADING IN THESE MARKETS . THE MORE WE FOCUS ON LIMITING RISK THE BETTER WE WILL BE AT HAVING A PROFITABLE TRADE
EXAMPLE THE SP 500 INDEX HIGHEST MONTHLY CLOSE WAS 1517.68 AUG 2000 ON THE WEEK OF SEPT 1 2000 THE SP 500 CLOSED AT 1520.77 FROM THIS LEVEL THE MARKET TURNED DOWN AND FELL INTO ITS CLOSING LOW AT A PRICE OF 815.28 MONTHLY AND 800.58 WEEKLY NOW IF WE TAKE THOSE 4 LEVELS 1517.68 MINUS 815.58 AND 1520.77 MINUS 800.58 WE END UP WITH 2 SETS OF LEVELS TO BEGIN RUNNING OUR PROGRESSION WITH .. EXAMPLE 1520.77 MINUS 800.58
1517.68 MINUS 815.58 ( monthly )

NEXT WE GO TO DAILY CLOSE HIGH AND LOW
1527.34 ALL TIME CLOSING HIGH 776.76 LOW

NEXT WE GO TO HIGHEST HIGH AND LOWEST LOW FOR PERSPECTIVE 1552.86 MINUS 768.63

NEXT WE AVERAGE OUT THE LEVELS WHAT WE END UP WITH LOOKS LIKE THIS :
.236=964.80 .382=1072.74 .50=1159.98 .618=1247.23 .786=1366.91
.786 details ( 1366.91 1371.44 1374.46 1385.03 )
.886 not shown = 1438.66 1437.64 1441.77 1463.45 ( ave = 1445.38 )
.886 + .786 / 2 = midpoint 1408.41 1412.83 (1366.65 1408.41 1463.45 )
all averaged=1347.16 ( this level will become pivot able level once top is in place )
NOW WE HAVE OUR LONG TERM FIB RETRACEMENT LEVELS THESE LEVELS REPRESENT BOTH SUPPORT AND RESISTANCE AS LONG AS THE MARKET STAYS ABOVE OR BELOW EACH OF THESE LEVELS EXPECT THE NEXT HIGHER OR LEVEL TO BE TESTED .
SO FAR FOR THE YEAR 2004 THE SP 500 INDEX HAS FAILED TO STAY ABOVE 1159.98 SO WE NOW KNOW THAT 1072.74 IS THE NEXT LOWER SUPPORT LEVEL THAT NEEDS TO HOLD THIS LEVEL SHOULD BE TESTED .WE ALSO KNOW THAT THE RANGE FOR THIS LOWER SUPPORT LEVEL IS BETWEEN 1083.60 AND 1063.48 SO HOW CAN WE NARROW THIS DOWN ??? WHAT WE'LL NEED TO DO IS RUN ANOTHER PROGRESSION BACK TO THE LOWEST MONTHLY LOW ( IF THIS TURNS OUT TO BE AN ALL TIME HIGH AT THE 1552 LEVEL THEN WE NEED TO GO BACK FURTHER IN TIME AND FIND THE LOWEST LOW ( A PREVIOUS BEAR MARKET BOTTOM GOING BACK 5 WAVES IN A LONG TERM CHART )
NOW I GO BACK TO 1990 , THE CLOSING MONTHLY LOW WAS IN OCT 1990 SO I NOW THE SAME SET OF PROGRESSIONS .THE MONTHLY CLOSING LOW WAS 304.00 THE CLOSING HIGH ...............( MONTHLY )WAS 1517.68 . THE PRINT LOW TO PRINT HIGH WAS 294.51 TO 1552.86 . WEEKLY WAS 300.03 LOW HIGH 1520.77 . SO WE RUN THESE PROGRESSIONS FOR SUPPORT LEVELS ASSUMING THE MARKET IS IN A LONG TERM UPTREND
PRINT HIGH TO PRINT LOW IS 294.51 LOW 1552.86 HIGH

WEEKLY WAS 300.03 LOW 1520.77 HIGH ( CLOSE )

MONTHLY WAS 304.00 LOW 1517.68 HIGH
DAILY WAS OCT 11 1990 LOW 295.46 LOW HIGH 1527.46
THEN WE AVERAGE THE NUMBERS :
.236=1239.13 .382=1059.37 .50=914.09 .618=768.81 .786=561.97
NOW LETS LOOK AT A WEEKLY CHART OF THE SP 500 AND SEE WHAT THESE LEVELS LOOK LIKE WHEN PLACED ON A CHART .
THE LEVELS WE ARE USING IS :
.236=964.80 .382=1072.74 .50=1159.98 .618=1247.23
.236=1239.13 .382=1059.37 .50=914.09 .618=768.81 .786=561.97.
THE RED LINES ARE THE RED NUMBERS AND THE BLACK LINES THE BLACK NUMBERS .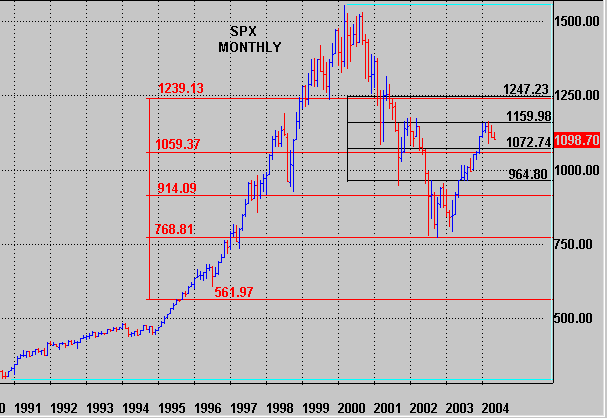 NOW THAT WE HAVE THE LONG TERM LEVELS PLOTTED WE CAN SEE THAT WHEN EVER THE MARKET CLOSED BELOW OR ABOVE ONE OF THESE LEVELS THE MARKET THEN WENT ON TO GO UP AND TEST THE NEXT HIGHER OR LOWER LEVEL. NOW WE NEED TO ADD IN THE CURRENT MARKET . THE PROGRESSION WE RUN IS THE SAME AS BEFORE YET WERE NOW FOCUSED ON THE RALLY PHASE FROM OCT 2002 TO MARCH 2004 . THE MONTHLY WEEKLY DAILY CLOSING LOWS ARE ALL THE SAME AS IS THE PRINT LOW . SO WHAT WE NEED TO FIND IS THE MONTHLY WEEKLY DAILY CLOSING HIGHS ALONG WITH THE PRINT HIGH .WE CAN ALSO SEE THAT THE 1159.98 FIB LEVEL HAS SO FAR HELD AS A SIGNIFICANT RESISTANCE LEVEL IN THE YEAR 2004 . WE ALSO KNOW IF THIS LEVEL IS BROKEN THE MARKET WILL GO UP TO TEST THE NEXT HIGH LEVEL AT 1239 TO 1247 WHERE THERE IS A DOUBLE FIBONACCI LEVEL . . THE LOWS SO FAR ARE THE OCT 2002 LOWS AT :815.28 MONTHLY 800.58 WEEKLY 776.76 DAILY AND 768.63 THE PRINT LOW . THE HIGHS ARE 1144.94 MONTHLY ( FEB 2004 ) 1156.86 WEEKLY 1156.86 DAILY AND THE PRINT HIGH WAS 1163.23 ( RIGHT INTO THE RANGE OF 1152.05 TO 1166.48 SHOWN ABOVE ) SO WE BEGIN WITH THE MONTHLY CLOSING PRICES :
815.58 TO 1144.94 ( MONTHLY )

800.58 TO 1156.86 ( WEEKLY )
776.76 TO 1156.86 ( DAILY )
768.63 TO 1166.48 ( PRINT LOW TO PRINT HIGH )

NOW WE AVERAGE THESE LEVELS
.236=1069.93 .382= 1016.51 .50=973.33 .618=930.16 .786=868.68
THIS IS THE END OF THE PROGRESSION SERIES FOR LONG TERM
THE CHART NOW LOOKS LIKE THIS ( ADDED BLUE LINES )
FOR ANOTHER FREE LESSON ON FIBONACCI CLICK HERE : FIBONACCI LESSON
MORE ON FIBONACCI : FIBMASTER'S
Copyright © 2004 CompanyLongName Last modified: December 20, 2008